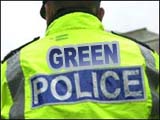 If you watched the superbowl this past weekend, then you are probably familiar with the 'Green Police' ad by Audi touting their diesel A3 TDI. While the spot was quite amusing, it can also be a bit sad as that is what many people think of the green movement.
I don't want to over dramatize it, because it was obviously poking fun a the extreme behaviors and righteousness of some in the eco friendly community, but it makes it easy for others to say: "see how silly all this green stuff is."
With an EPA-rated 42 mpg on the highway and a 30% reduction in greenhouse gas emissions, the new A3 TDI is one of the 'greenest' cars out there, but it still doesn't take away from the fact that it is still a car and a major contributor to greenhouse gasses, pollution, energy and waste- even if you use biodiesel. If I was to really pick apart the commercial, its quite hilarious that one offender was arrested for requesting a plastic bag while the guy driving a car (a 5 seater all alone at that) would be praised. I mean what kind of backwards environmentalism is that?
Obviously this was just a silly car commercial with Audi poking fun of having the greenest car, while at the same time promoting it, is just them playing both sides of the coin at the same time. It's great marketing and evokes laughter; maybe I am just getting too sensitive and protective of the environment and the green movement and I just need to laugh at the ridiculousness of it all, but it still makes me sad.