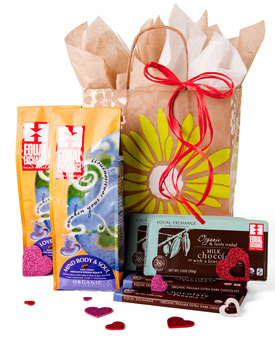 Valentines day is nearing and what better way to wake up with your love than with a coffee and chocolate pairing. It'll get your heart racing and your euphoric feelings jump started (we all know the love euphoria properties of chocolate). You won't feel guilty enjoying this because it is eco-friendly and socially responsible Organic and Fair-trade from Equal Exchange. I was delighted when Annie from Mambo Sprouts was gracious enough to send me a sample.
Wrapped in a recycled print gift bag chocked full of goodies, the Equal Exchange Organic Chocolate and Coffee Pairing Gift Bag will be sure to conjure up feelings of the holidays. Two bags of love inspired organic coffee blends (Organic Love Buzz and Organic Mind, Body and Soul) along with four Organic Chocolate Bars perfectly paired with a 'pairing' instruction sheet will provide for an entertaining and enjoyable morning or afternoon activity to share. At $34.95, its less than a dozen roses and definitely tastes better! Check the bottom of this post for a free shipping code for The Chic Ecologist readers.
For those with a soft spot for chocolate heart minis, Equal Exchange's fairly traded (Vegan and gluten-free) Organic Dark Chocolate Minis (55% cacao content) are a far-cry from the chocolates you find in those heart shaped boxes. These deliciously rich, bite-sized chocolates are crafted using the best quality organic cacao (cocoa beans) from small-scale farmer co-operatives in the Dominican Republic and Peru. Swiss-made with only the purest ingredients, and soy- and gluten-free! Despite their small size, these minis have big impact. By choosing Equal Exchange fairly traded chocolate, you help provide small-scale farmers the resources and opportunities they need to build a better future for their families and communities. At only $5.49, it is well worth the price.
If you buy before February 14th, Equal Exchange will provide free UPS ground shipping within the contingent USA only when you purchase through their online store. The code is chocolatelove. Enjoy!