When it comes to green design, there are some really cool eco-friendly artists out there doing some amazing work. Here at The Chic Ecologist, we like to bring to light some of these beautiful sustainable designs. I have had a lot of great 'reader finds' and small design shops and artists send me some of their works and designs, so it is time to share!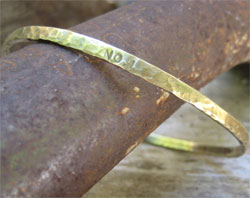 Nikki Montoya is a jewelry designer that comes to us from Southern California with an eclectic collection of jewelry inspired by the past. Sustainable materials, salvaged rarities and vintage charms are brilliantly combined with a contemporary vision and technique. Each one of these unique and inspired handmade creations are one of a kind. I am a particular fan of the bangles (pictured) and "Sparrows". Check out her website and find her jewelry sprinkled in a handful of Los Angeles area boutiques.



Miami based Argentinian furniture designer Facundo Poj has a scattering educational and experience background ranging from a master builder and Architecture school to a degree in Urban Affairs and Environmental Problems. His works consist of handcrafted junkyard objects with historic value. He is interested in subjects which contain a soul and have a lasting quality to them. Researching new ways of using materials outside the large scale mainstream manufacturing; he employes materials like salvaged cardboard or engineered bamboo. I particularly enjoy his repurposed bathtub line of furniture including the bathtub chaise lounge.
Related Items:
Simply Wooden Rings – Sustainable Wood Jewelry
Junkyard Tables – Vintage Automobile Hood Tables
Metaform Studio Lighting – Green Lighting Design
Beach Trash Sculptures – Necklaces from Discarded Rubbish