Biodegradable items are great for our environment. They break down and replenish the earth. Biodegradation is the process of biological conversion of materials into CO2, H2O and minerals. According to tests based on international standards (OECD), to be called readily biodegradable an ingredient must biodegrade 60% or more within a 28 day period. The only drawback is that most items (including all those listed here) must be disposed of properly, which means it must be composted. Backyard composters are a great way to biodegrade food scraps, paper waste, and many of the items listed below. If you live in a condo, or have no way to compost locally, many cities have a green waste bin which accept most biodegradable items. However, some items (such as diapers or contaminated items) may require a commercial composting facility. Contact your local waste management facility to inquire about their policy on green waste and composting.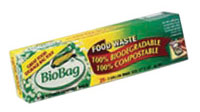 Disposable biodegradable trash bags – BioBag, a disposable biodegradable trashbag. They also produce bags for all kinds of needs such as yard waste, doggie waste bags and more, all of which are biodegradable. If disposed at a commercial compost facility, these bags will biodegrade in as little as 45 days. BioBags are shelf stable up to two years before they start to break down.
Eco-Friendly biodegradable drinking straws are ingenious. Its something we use millions of each day and throw in the trash without thinking. Heat stable to 135 degrees F, these compostable straws are a must for your drinks on the go. From stir straws to jumbo smoothie straws and an array of color options. For foodservice requirements, wrapped straws are also available.



Biodegradable diapers have a huge impact on reducing the amount of waste created by petro-chemical disposable diapers. Available from several brands such as Seventh Generation, gDiapers and Nature Babycare, these green diapers are becoming an easy way to go green for your baby. gDiapers even make flushable diapers to avoid the landfill (even biodegradable diapers don't breakdown very well in a sealed landfill). If you live in the San Francisco Bay Area, you should check out Earth Baby, a biodegradable diaper composting service that will deliver, pick up, and compost your diapers and wipes for a low monthly fee. A great alternative to cloth diaper service, and a huge improvement over plastic disposable diapers.
Biodegradable cutlery made of Plant Starch Material (PSM). Compostable and made from non-GMO (Genetically Modified Organism) vegetable starch, these medium weight biodegradable utensils have a heat tolerance up to 200 degrees F and biodegrade in 90 days. There are heavyweight biodegradable fork, knife and spoon sets available as well, made from PLA Corn Plastic, these contain some additional biodegradable fillers and most closely resemble plastic utensils. PLA cutlery is BPI compost certified.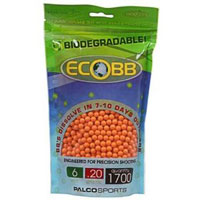 Biodegradable Airsoft Eco BBs like those made by EcoBB and others. I remember shooting my BB gun as a kid and just littering the back yard with millions of these little BBs. I would feel better about that if i knew that after a few rains they would have started to disappear. Many of these products completely dissolve in 7-10 days leaving no trace of your pellet gun ways.
Biodegradable cleaning supplies – such as Eco-Me natural cleaning kits which you can make yourself out of household products and pre-mixed formulated products like those available from Method Home. While biodegradable doesn't necessarily mean you can go take a bath in a mountain lake with them (most biodegradable products are still harmful to the environment until they have begun to biodegrade in soil) they are free of lasting toxins and harsh chemicals like chlorine, phosphates, phthalates, and ammonia.
Biodegradable pesticides – Perhaps the most well known and widely used biopesticide comes from Bacillus thuringiensis (Bt), a bacterium that produces insecticidal proteins, although several are made from citrus oils and other organic biodegradable compounds. EcoSmart pesticides and insecticides are made with organic plant oils which naturally repel pests. Safe even for Organic farms, these pesticides are naturally derived with no synthetic chemicals and readily biodegrade.
Find many of these items at branch.com and ecoproducts.com