Thinking of something to do for the weekend? How about spending your Saturday in the sun or in the shade of the Space Needle while listening to green music. Of course, the music itself cannot be green but the people, supplies, and purpose can be. At the Seattle Center this Saturday July 24th comes GreenNote, a celebration of sustainable music and culture.
GreenNote is an awareness festival consisting of of environmentally friendly products, sound, food, and people who are all there to spread the word of green while listening to the beautiful music that comes along with it. The festival features artists who are environmentally conscious and passionate about their music as well. The featured event is Amos Lee who will be playing Saturday at the Mural Amphitheatre from 8:20pm-9:50pm.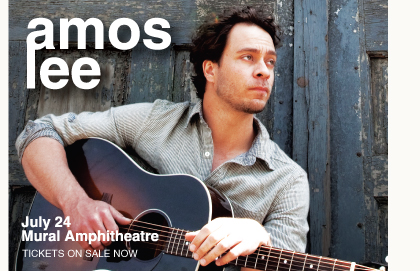 Like powerful sustainable photography the GreenNote musicians also have a green message for their listeners. It is $25 for general admission and $15 for kids under 12. GreenNote also features Rocky Votolato who is a Seattle musician raised in the Pacific Northwest indie scene. The guitarist and singer/songwriter Ian Moore will also be playing his musical mix which includes folk elements, folk and roll, world music, and blues. Star Anna was born and raised in Ellensburg, WA and will also be playing her mix of country and folk music. GreenNote is keeping the event small so their environmental impact can be small as well, but their awareness impact can be large. Check out the other local artists that GreenNote loves. The music is quiet and acoustic so the festival uses less energy, and you can lay back on the grass, relax, listen, and learn.
[ad name="Go-KM-Lgsq"]
Much like the Green Festival that was here a few weeks ago, GreenNote is a festival that is trying to increase awareness of green living while providing a fun environment that people are encouraged to attend. To decrease their paper use, the festival is promoting their event electronically. 90% of their advertising is done online or over tv and radio which are combined with easy tips for Seattle locals to live green. The other 10% of their paper advertising is on 100% recycled paper printed with soy inks.
Even the GreenNote food is going green, the great restaurant vendors will include sustainable and/or vegetarian options on their menus as well as using compostable plates cups and other food ware. GreenNote is on a mission to prove that green living can be easy, cost-effective and encouraging for a green tomorrow. Pay attention to the GreenNote schedule and make sure you get there on time to listen to the music, taste the food, and mingle with other Seattleites participating in the green movement and enjoying a fantastic day.