I am pretty excited about the first (of hopefully many) Carrotmob event at the Pike Place Place Brewery in Seattle, Washington. If you haven't heard about Carrotmob, you should check out their website and get hooked into their sustainable consumer network.
Carrotmob organizes environmentally conscious individuals to reward businesses for being eco-friendly. One way they do this is to funnel large amounts of consumers to patronize a single business which has promised to become more sustainable. The means is negotiated beforehand by the Carrotmob team, which can range from upgrades to make a business more energy efficient, to converting over to renewable energy.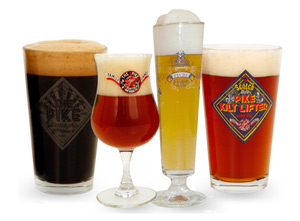 The first ever Carrotmob event in Seattle happens TODAY (sorry about the late notice) April 22, 2009 in tandem with a Seattle Greendrinks event at Pike Place Pub and Brewery.
Twenty five percent of all sales will go to energy efficient upgrades, retrofits, and green upgrades. What a coincidence its also earth day!
If you can't make it out today, then next time you are in the area, stop in and let them know how happy you are that they are a part of this change for the better. To make it really easy for you all, I've even included this fancy map to the pub.
This has proven to work quite well, more than doubling revenue predictions in a carrotmob event last year in San Francisco (see video at bottom of page). Twenty two percent of the revenue generated in one day at a small corner grocery store went to upgrading the lighting fixtures and new gaskets for the refrigerators. Plus, it keeps on paying since the energy upgrades are actually cutting costs to the store!
The whole neighborhood continues to selectively shop there because of the event, and their commitment to green up. Not a bad ending really. So come on! Be a part of this change and participate or create your own Carrotmob event!

Carrotmob Makes It Rain from carrotmob on Vimeo.