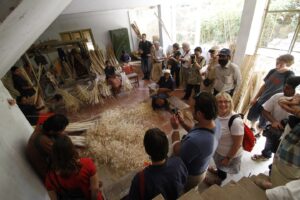 The factory is up and running, albeit very inefficiently laments a native Keralan turned fortune 500 CEO turned self-help writer (who happened to be touring around with us, viewing the facilities). He ran Phillips, the appliance/TV company and quit after working to outsource production of Phillips products – and seeing the negative effects his work was having locally and globally. He explained to me the Indian mindset that he came from: "Indians are not thinking of the future -besides marriage and home construction. The mindset in village is: let's pay off today, lets enjoy today, then we will worry about tomorrow." He offered his consultant services to URAVU on his visit home next year, to help increase productivity in the factory.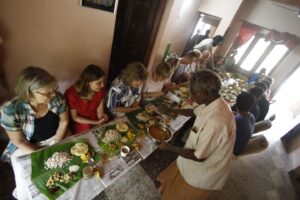 Uravu sells bamboo crafts within India and demand is high for the quality handmade products. This is only one aspect of the Bamboo Village. The next phase is a large guesthouse (Completion Goal: Dec 2013)- being built with – you guessed it – bamboo. This will house tourists – primarily groups and families, however dorms may be available for backpackers. Currently there is a home stay program that Romarie and I enjoyed. We stayed comfortably in Mary's families house, experiencing the day to day – even the early morning noises from the chickens (one of which we ate for dinner), and even the family scuffles. Half of the cost went to Mary (money is given to the woman of the household, who runs the homestay), and half is reinvested into the community through Uravu.
We could help cook (to learn), hang out, and walk around village. We could choose to help farmers or hike a nearby mountain. We did not once get offered bottled water (boiled or filtered), we were never approached with a scam or rickshaw ride (like in many tourist places), nor pushed to buy handicrafts, clothes or tours. Instead, we ate wonderfully tasty local food, attended a very lively church event, and hiked throughout the embedded rice and coffee-plantations and Wayanad jungle hills feeling safe and known by the villagers. It was a short stay – only 3 days (the minimum stay), but I felt a part of things. Not like a disease, but my presence was somehow helping a place in someway or another – while I was also learning about a people and way of life. I think the term is Ethical Tourist.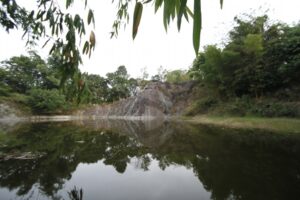 After the completion of the guesthouse building, visitors will live with additional privacy and space in the forest in a sustainable and eco building. They will eat meals in the homes nearby in order to maintain connections with the villagers. Babaraj explained his vision for wastewater re-use, solar energy, bio-gas collection and new technologies to make this a model for future construction in India. Their next task is to tackle the most visually obvious environmental issue plaguing India – plastics. Without a recycling facility (much less a trash collection) people toss un-useables in ditches and then occasionally sweep it up into a pile to burn. That was fine when waste was paper and banana leaves (a common packaging material), but now cheap plastic is flowing in all corners of the world with no signs of stopping. Uravu plans to organize a trash sorting system in the area and this includes a method to collect send plastic bottles to a recycling center. Uravu has high hopes to make a big difference in this swiftly changing country. To learn more, or if you are interested in staying at URAVU, please visit their website http://www.uravu.net
Nicole LaCount is a traveling science teacher who is based in the Bay Area, California
Read the previous articles:
Discovering Bamboo Village – Part 1
Life at Bamboo Village – Part 2