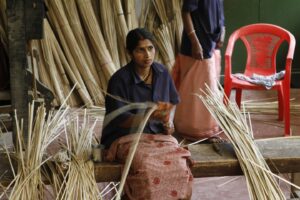 The mission at Bamboo Village is to preserve a way of life (agriculture-based) in the face of a changing world where local village economies are subject to global economic changes. Much more than that – it is to create something for this area to live sustainably and healthily and to prevent brain drain; to keep young people there, rather than running off to the city to work as a tech customer service representative. URAVU meaning "Spring" or "source of life", was started in 1996 by a group of Indians who had met in college and were politically active who wanted to help make a change (fun fact Kerala is the only state in India that democratically voted a Communist Government). When I pressed, Sivaraaj pin pointed the two main reasons for starting this work here – to break the caste system and to address environmental concerns that were coming about at the time. I asked him what changes he has seen since starting, and he said that "we have gotten women out of the home, and we have been a pacifier for the religious tension that boiled over a few years ago." He indicates that the organization has gained a lot of respect for hiring all types of people (all religions) especially tribal people and women, and helping the community in an objective way.
The village is that of Thrikkaipetta people and 150-200 people are employed as part-time factory workers or farmers. The focus is on empowering women in the community, along with Tribal people (lowest in caste system), and Farmers. The economic downturn in the 90's (and other factors) caused insurmountable debt for farmers that resulted in hundreds of local farmer suicides. This has rocked the rural communities throughout southern India – leaving widows who have inherited the debt, and are deemed un-marryable. Uravu now pays farmers to plant bamboo and employs mostly women.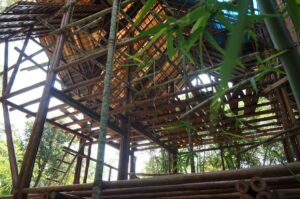 As Daniel puts it – "Bamboo is the center. Bamboo is also the symbol." It is sustainable wood – grows quickly and easily here (they have over 30 varieties- each used to make different things from incense sticks to construction beams to hangers). Bamboo is essentially a large, strong grass that one can cut and watch regrow. Bamboo is an interesting plant. I happened to be in the area when one common species of Bamboo had just flowered, produced "bamboo rice" and was in the process of dying (only to regrow again next year). In this local species, this happens only every 40 years!
Nicole LaCount is a traveling science teacher who is based in the Bay Area, California
Continue reading about her adventure below:
Finding Bamboo Village – Part 1
Learnings from Bamboo Village – Part 3