I love the idea of re-purposing discarded trash into art and functional pieces, just as Oxyd Factory has done with junked automobiles. The idea of repurposing and upcycling is a common topic here on The Chic Ecologist, primarily because I love the creativity and reduced environmental impact born out of the transformation. You may have seen other recycled automobile tables and even recycled aircraft furniture here, but I was really drawn to the uniqueness of Oxyd Factory designs.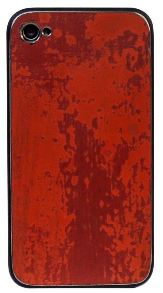 Oxyd Factory upcycles automotive bits (mostly hoods and trunks) of junked cars and trucks into beautiful unique pieces of furniture and art. They have even made a run of iPhone cases which exude a vintage worn feel, in perfect harmony with the sleek modern technological feel of the phone.
Recycling metals this way provides not only one-of-a-kind, beautiful works of functional art, they also reduce the demand for new products. It may not sound like much, but reaches all the way back to the environmental impacts from mining, production and shipping.
Check out their website where you can browse art pieces, see the original state of the junked or wrecked automobiles (along with make and model), and even see the raw materials available for your custom order.