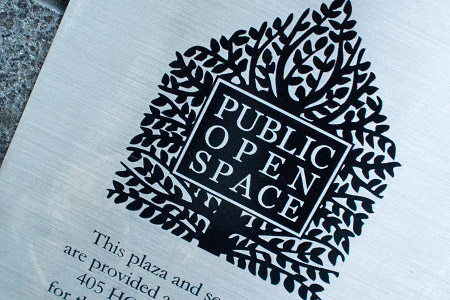 San Francisco is full of hidden garden oases and public patio gems thanks to a little known program promoting called POPOS or Privately Owned Public Open Spaces. That is, many highrise buildings in cities have public 'parks' or public space viewing areas in them. This can include observation decks, terraces, patios, roofs and viewing floors that serve as public spaces for all to enjoy for free.
Most of these are ground floor plazas, entryways, or simply hardscaped sidewalk extensions with the occasional planter or bench, but there are a few hidden gems here and there. You can find a complete list and Downtown SF Public Parks Interactive Map, but these are my favorite lunch-time urban oasis retreats:

100 Pine Street
Pros: Fountain, plants and peaceful feel
Cons: Small space, limited seating, partially shaded
An urban garden and peaceful oasis, this space features fountains, stonework, some potted vegetation and seating. Sculptures are on display in this architectural feeling space. A great place to bring your lunch and escape from the busy streets, it also gets some sun, which is rare for such a small area surrounded by large towers.
Access: From narrow walkway on Front Street or buildings main entrance.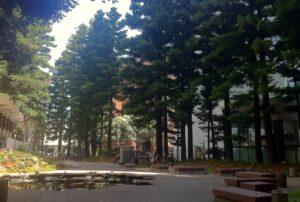 535 Washington Street
Pros: Large trees & fountain, sculptures, and great feel
Cons: Not many
Dubbed Redwood Park, this enchanting urban park is at the base of the famous and easily recognized TransAmerica building. Almost as if a small plot of coastal Marin was transplanted onto a half city block, there are rolling hills covered in ferns and clover, towering redwoods and a forest-like feel. Centered around a flowing fountain drowning out the city noise, this space offers scattered bench seating, sculptures and peace.
Accessible by clearly marked entrances on both Washington and Clay street (and hard to ignore redwood trees), you can't miss it.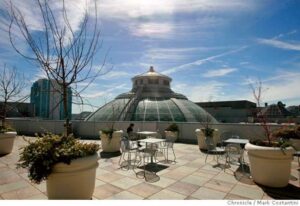 845 Market Street
Pros: Elevated (9th floor), city views, large space, ample seating
Cons: Lacks vegetation or park feel, loud HVAC systems also on roof
Westfields Sky Plaza is an extensive 9th floor rooftop with city views and a ringside seat to the buildings magnificent dome. Not as garden like as some, there are large potted plants and trees with benches and seating scattered around the hardscaped patio. If you are looking for sun though, the height and location put you above the shadows of the streets below.
Access to the elevated patio is a bit tricky. Find the Market Street building entrance on the far left side of where the building property line ends (next to Walgreens). You will see San Francisco State University Banner and the address 835 Market Street. This is also the entrance to San Francisco State's Downtown Center. Enter here and tell the guard you are going to the Sky Terrace. Enter the first elevator on your left and select floor nine. If there is no floor nine, you are in the wrong elevator.

301 Mission Street
Pros: Enclosed (great for rainy days), food options, artwork
Cons: No vegetation
When it rains, or it is cold and gloomy, the Millennium Tower Plaza offers an indoor respite filled with artwork and even offers dining. It could use some more vegetation, but the high glass windows and ample seating make this atrium a beautiful space to enjoy.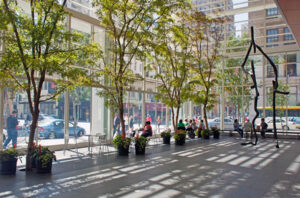 101 2nd Street
Pros: Enclosed (great for rainy days), food options, vegetation, two levels
Cons:
This urban greenhouse is another great rainy day option with high glass windows, rising trees, and tall sculptures. The space is open with scattered chair seating and two levels. Food is available from a cafe sharing the space. Access is from the main entrance on Second Street.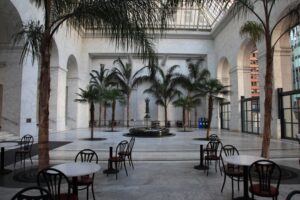 1 Sansome Street
Pros: Enclosed (great for rainy days), lots of tables and chairs, beautiful marble
Cons: Can be loud
Another indoor oasis, this greenhouse within Citygroup Center has a glass ceiling, offers ample space with tables and seating, and is covered in marble with tall potted palms reminiscent of a middle eastern palace. A favorite for lunchtime on cold but sunny days. Access from the main entrance on Sansome street.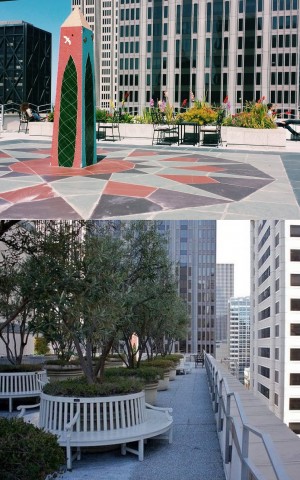 343 Sansome Street
Pros: Elevated (15th floor), seating, and bay views
Cons: Small space, only open weekdays during business hours
A fantastic rooftop featuring sunny seating with bay views, there are circular benches with trees and a variety of plants to enjoy. Keeping with the theme, a prominent sundial lends an artistic planned feel to the deck. Be sure you check your own dial to make sure you visit during open hours, M-F 10am to 5pm. Enter through the main entrance on Sansome and take the elevator to the 15th floor.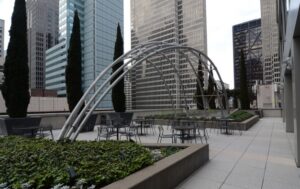 150 California
Pros: Slightly elevated (6th floor), seating, and bay views
Cons: Small space, only open weekdays during business hours
A terrace with a view, this sun-seekers dream gets long hours of sun and is cris-crossed with vegetation. A large metal sculpture dominates the space, soaring above the concrete rimmed planters. Open from 9am to 6pm daily.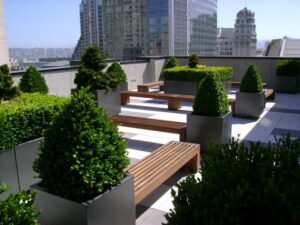 1 Kearney Street
Pros: Elevated rooftop patio with benches, manicured shrubs and city views
Cons: Small space, limited seating, only open business hours M-F
This very quaint deck on the 11th floor offers spectacular city views of SOMA amongst manicured shrubs and benches. The space is quite small, about the size of a large living room, so be aware if you have a large group. You are also able to see some pretty architecturally interesting roofs from this location, if you are into that sort of thing.
Access the 11th floor patio from the main building entrance on 23 Geary. You will need to sign in, then take the elevator to the 11th floor.


Great Resources to SF POPOs:
Map: http://sfist.com/attachments/SFist_Brock/map_of_private_parks_sf.jpg
Print Guide: http://www.spur.org/sites/default/files/migrated/anchors/popos-guide.pdf
Interactive Maps: http://www.sf-planning.org/index.aspx?page=3339#map
In Depth Article: http://www.spur.org/publications/spur-report/2009-01-01/secrets-san-francisco
Individual park descriptions: https://medium.com/sf-popos/