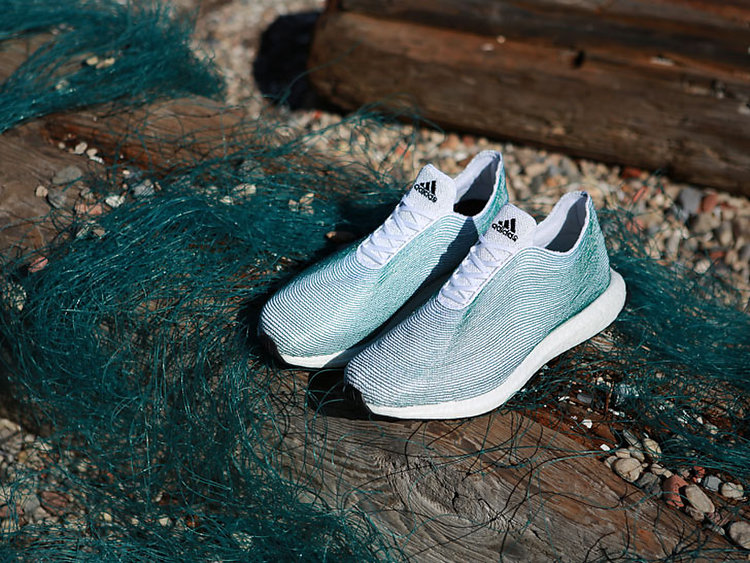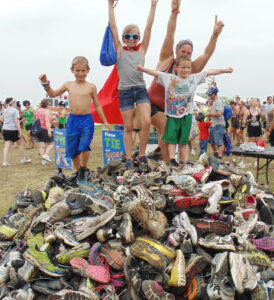 It's estimated that 20 billion pairs of shoes are produced annually, with roughly 300 million pairs ending up in landfills after they have been worn. The Ethylene Vinyl Acetate, which usually makes up the midsole of most running shoes, can last for as long as 1,000 years in a landfill.
There are a few organizations out there trying to reduce the impact of this waste including Reuse Your Shoes and Usagain, with the latter partnering with Warrior Dash to collect worn shoes and send them to developing countries. Nike also has a program to collect unusable worn shoes at their retail stores to turn them into athletic equipment and material for running surfaces.
Rewind to where it all begins, manufacturers have long tried to reduce waste in the shoe building process. Typically, shoes are cut from large sheets into patterns, leaving 30% or more material to be discarded. New Balance (among others) have tried to curb this by introducing the 'puzzle cut' upper, but the new knit innovations may eliminate this problem altogether. Adidas Primeknit and Nike Flyknit lightweight running shoes (unlike traditional sewn shoes) are knitted from front to back, reducing wasted material by about 80%.
300 million pairs of shoes end up in landfills each year.
Taking this one step further is Adidas. Their collaboration with Parley has resulted in an Adidas Recycled Ocean Waste Shoe. Constructed from re-purposed abandoned or illegal drift nets (also known as gill nets) pulled from the ocean, the nets are woven into the shoes upper. With no shortage of available material (there are gill nets like this clogging oceans and seas around the world), this could be developed into an actual scalable product. Removing these nets that kill and maim hundreds of thousands of ocean animals, including turtles, dolphins, sharks, rays and even whales, is an added bonus of this project.
Unfortunately, this is a separate issue from the tons of plastic in the Atlantic and Pacific Gyres, and the shoes are not made from this plastic soup, but that may change in the future. Cyrill Gutsch, founder of Parley for the Oceans says: "At this point we didn't see a feasible technology. What we believe now is that you can instead avoid the microplastic that's coming into the system." Which is leading them to their next goal- developing a plastic alternative.
"We're going to end ocean plastic pollution only if we're going to reinvent the material," says Gutsch. "We need a plastic that is not the current plastic—it's a design failure. It causes a lot of problems. Plastic doesn't belong in nature, it doesn't belong in the belly of a fish, it doesn't belong out there. The ultimate solution is to cut into this ongoing stream of material that never dies, is to reinvent plastic."
Well said.
Here is an update on the Adidas and Parley project from November 2016, and a link to all of their products: http://www.adidas.com/us/parley