With energy efficiency awareness growing, and new lighting technologies being developed at a rapid pace, which bulbs on the market offer the best value for the eco-conscious? With the more recent popularization of Compact Fluorescent Light (CFL) bulbs due partly to their electricity savings and partly from huge discounts and government energy rebates making them more affordable, we ask the questions: which is the best value, which has the best life, which is the most eco-friendly, and which puts off the best light? We set out to put them all to the test.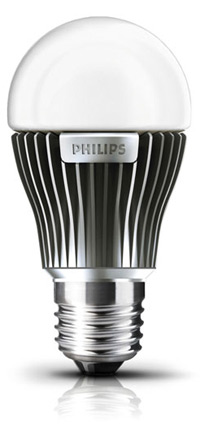 Light Emitting Diode (LED)
Growing LED technology is developing one of the most energy efficient, long lasting and versatile bulbs in history. Already replacing traditionally incandescent automotive bulbs, flashlight bulbs, monitors and televisions, the LED is quickly becoming the new standard in eco-friendly efficient lighting. Household and commercial light bulbs are still in their infancy with very few and very expensive offerings that for the most part cannot compete with current bulb offerings.
Average Lifespan: 60,000 hours
Energy Consumption: 230 lumens / 7 watts = 33.9 lumens/watt
Average Bulb Cost: $54.00
Pros:
Cool to the touch
Available in several shades and colors
Dimmable
Very high color spectrum or temperature (closely mimics daylight) at 4200k
Extremely long life
good for floodlights and direct, focused lighting
Cons:
Price and availability
narrow focus of directed light (almost like a flashlight in many instances)
still in early stages of development for home lighting applications
Best Bet: Use in as low output uses such as nightlights, accent lighting and for directed and focused lighting situations, especially in difficult to replace areas

Compact Fluorescent Light (CFL)
Revolutionizing the light bulb industry a few years ago with the development of a compact, bulb size fluorescent bulb prompted huge gains in efficiency and longevity of lights for household use. Troubled by flickering, cold starts, and harsh color temperatures, and lack of dimmability, the newer generations of CFL bulbs have solved many of these problems to become the most popular energy efficient replacement bulb (government rebates and offers have also helped).
Average Lifespan: 10,000 hours
Energy Consumption: 850 lumens / 14 watts = 60.7 lumens/watt
Average Bulb Cost: $2.98
Pros:
Available in many color spectrums and can mimic daylight easier
Currently best value for initial cost over energy efficiency savings.
Cons:
Contains Mercury, a toxic heavy metal which can pollute water sources if disposed of incorrectly
Lighting can be harsh when compared to the softer glow of an incandescent
Some older models have difficulty outdoors or in cold temperatures, flickering issues and problems with dimmer switches.
Best Bet: As a general use bulb in most common situations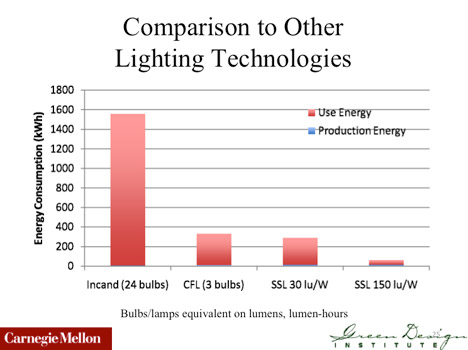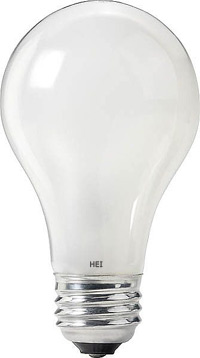 High-Efficiency Incandescent (HEI)
Tough new efficiency standards, due to take effect in 2012, are changing the lighting business. No traditional incandescent bulb on the market would be able to pass these energy standards prompting a new surge of competition among lighting manufacturers who have relied on the standard centuries-old technology developed by Thomas Edison. A new entry to the energy efficiency race, high-efficiency incandescent (HEI) bulbs are in development to compete with CFL bulbs and pass these new standards boasting four times the energy savings over the traditional incandescent.
Average Lifespan: TBD (estimated )
Average Output: TBD (30 lumens/watt target output)
Average Cost: TBD (estimated at $5 a bulb)
Pros:
Can be used in all existing lighting applications
Longer life than original filament bulbs
Lower heat output than original filament bulbs
Cons:
Still in development
Not quite as energy efficient as CFL or LED
Best Bet: For use when an incandescent bulb is necessary for the lighting application.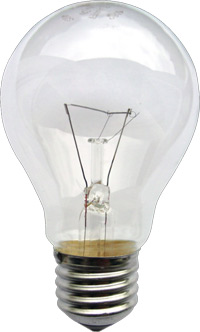 Original Incandescent (filament bulbs)
Not much has changed in the original design of your basic incandescent filament bulb. Advances have been in the area of light output, usually at the cost of efficiency. Halogen bulbs are perhaps the most recognizable as they can be extremely bright, however, many were shocked at their electric bills after using these bulbs. Given the age of the technology, production is cheap and plenty with the average cost of a basic tungsten filament bulb at $1.34.
Average Lifespan: 1,500 hours
Energy Consumption: 850 lumens / 60 watts = 14.5 lumens/watt
Average Bulb Cost: $1.34
Pros:
Inexpensive and common
Soft lighting
Cons:
Least efficient with a lot of the energy released as heat (think: easy bake ovens)
Short lifespan
Best Bet:
Use in specialized situations, easy to replace and rare use applications to keep energy costs low
Bottom line, if you need to replace your bulbs now, choose a quality CFL bulb for the best energy savings and longevity, just make sure to dispose of it correctly. LED and HEI technologies are developing rapidly, so if you already have an energy efficient bulb in place, you may want to wait before stocking up your storeroom or closet with replacements. Replacing your current incandescent bulbs can result in an immediate savings on your electric bill (especially when multiple bulbs are replaced in high use areas), and will greatly increase your energy efficiency.