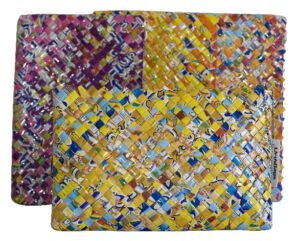 I have always been intrigued by the many creative materials used for recycled content bags, especially things like juice boxes. I recently purchased a recycled fire hose bag which I have been delighted with, and I have several recycled cotton, plastic and vinyl bags for shopping and such, but UrthBags has taken the cake with their creative reuse and recycled materials.
With everything from bright and colorful recycled juice box clutches, to understated but exotic coconut & sea shell bags, UrthBags utilize just about anything that our society produces plenty of. Recycled Newspaper, Magazine, and Telephone Book Bags are formed into purses, messenger bags, tote bags, diaper bags and more.
They were kind enough to send me a juice box bag so I could get a closer look at the quality and composition of their products, and I must say it was impressive. They really take the reuse and recycling idea seriously as the bag was packaged and delivered in a re-used box (plus one for practicing what you preach!) The bag was woven together in a tight and sturdy pattern exploding with color. It had a feel similar to a vinyl or soft plastic, but did not appear 'cheap' or 'flimsy', rather the opposite- it was of exceptional quality. My girlfriend quickly snatched it from me to become her new traveling makeup bag.
Their prices are very reasonable, especially for the construction quality and overall appearance. I plan on picking up a new bag for myself, the hardest part is figuring out which style and material I want it to be recycled from.