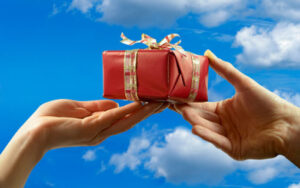 Even in this day and age, green thinking is still a new concept for some people. Buying green gifts for your friends is a great way to encourage green behavior and educate them about green concepts and products. Here's a list of my favorite eco-friendly gifts for friends, environmentalists and non-environmentalists alike.
Fair Trade Chocolate. Just about everyone likes chocolate, so it's the perfect go-to gift for just about anyone. Educate your friends and family on fair trade practices and the sustainable benefits of encouraging fair trading practices in developing countries. Check out Serrv, which has some tasty chocolate treats on their site, that even help them in their goal to eradicate poverty. Other fair trade chocolate and organic raw chocolate options help society and the environment.
Eco-Friendly Classes or Outings. Pretty much any class or experience is a good buy. I highly recommend yoga or meditation classes. There's not better feeling than being at peace after a good yoga class in my opinion. Also, you can find classes or day trips through local environmental groups, or the Audubon society, which have low environmental impact, high educational value, and are just out right fun.
Organic cotton bed linens. If you've never tried organic cotton bed linens, you're missing out, especially if you, like me, suffer from allergies of any kind. Organic linens can be a savior for those of us with intense allergies, keeping our air passages free of allergens and reducing chemical sensitivities. There are even lots of brightly colored and awesome patterned options available. Try Amnitey Home, Gaiam or VivaTerra or Good Night Naturals for some quality natural bedlinens.
Eco-Friendly Yoga Mat. Yoga mats are most commonly made from polyvinyl chloride (PVC), also known as "vinyl", which is an environmental toxin. But your friends may not know that, and what yogi wouldn't appreciate a new mat? Manduka makes my favorite eco-friendly mat made from natural rubber.
Beeswax or Soy Candles. Most of the cheap candles you find are made from paraffin. Fumes from paraffin candles have been known to contain a plethora of carcinogens and contribute to the ever-increasing CO2 problem. Spend the extra few bucks and get beeswax or soy candles that are naturally, not synthetically, scented.
[ad name="Go-ED-LgSquare"]
Recycled Décor. Green glass has some awesome glassware that make great housewarming or wedding gifts.  Another great place to try is Resource Revival where they're all about recycling bike parts. They make some awesome picture frames, clocks, and even bowls for around the house.
Buy a tree. I realize that getting someone a tree is kind of a big deal, but if you have the right gardener in your life, buying a tree can be one of the most fulfilling gift you can give. If possible, check out your local farmers and nurseries to cut down your carbon footprint instead of shipping a tree halfway across the country. There's also the Arbor Day Foundation which sells a variety of trees from their website.
Donate to a charity. There are a tons of great charities out there, and donating is a pretty awesome no-mess gift. For those of us with cramped schedules, donating in someone else's name is the perfect last-minute gift. The Slow Food Movement, the Disability Rights Education and Defense Fund, and the Trust for Public Land are some of my favorites. The American Institute of Philanthropy rates charitable organizations on their website, which is a great resource if you're looking for a top-notch good cause.
Giving eco-conscious gifts is not only a way to show our love an appreciation to others, but it can be a teaching moment as well. Use the next birthday or special occasion on your calendar to demonstrate your green gift giving know-how.