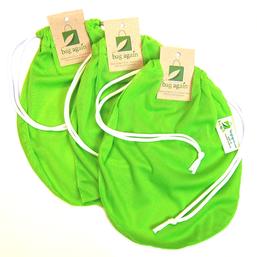 There are a lot of great choices out there for reusable grocery bags, but Bag Again has created a recycled plastic mesh bag perfect for produce and bulk foods. Not only does it hold it, but you can wash, rinse, and scrub your produce in the bag for even more convenience.
Bag Again sent me a few samples to try out in my regular shopping, and I haven't looked back. Granted, I used to avoid those produce plastic bags and just pile up my fruits and vegetables loosely in my basket, and find them rolling around in my canvas bag by the time I got home.
Made of 99.7% recycled plastic, the bags are made into a memory mesh fabric that expands and contracts to hold your food snuggly, no matter the size. Made using a process called Repreve, it is the same material used in recycled fleece jackets. The material is then stitched together to create the drawstring mesh bags in Bag Again's production facility in Spencer, Iowa. Holding up to 7 pounds, these are even machine washable to remove contaminants and residue left from your produce.
I don't have to tell you the huge impact plastic bottles are having on our planet. Between the waste created, the impact of discarded plastic, and the disposible nature of the products, plastic is steadily becoming a problem. Products like this reduce the production of new disposable products and encourage reuse, all while utilizing recycled plastic, encompassing all of the three 'R's (Reduce, Reuse, and Recycle). Let's all support this green bag revolution!