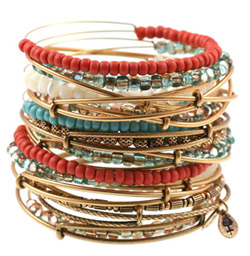 I recently received a package from Alex and Ani, an eco friendly jewelry designer with a showroom in Tribeca, New York, that is extremely hot right now. Chances are if you have opened a celebrity magazine, seen an awards show or watched a movie lately, you have seen some of their jewelry and accessories.
I was lucky to get a bracelet from one of her patented Signature Expandable Wire Bangle collections that adjust to fit just how you like. Alone or grouped with several different designs, these eco-fashion accessories are sure to spice up your wardrobe.
Handcrafted in the United States (Rhode Island to be exact) from recycled metals, and avoiding destructively mined gold, Alex and Ani have courted Hollywood and Europe alike with their beautiful and green designs.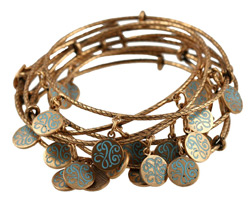 …Alex and Ani products are handcrafted from recycled metals. Alex and Ani founder Carolyn Rafaelian is deeply committed to creating a greener future for the planet and its inhabitants. Reusing and recycling materials in the creation of her jewelry is an integral part of Rafaelian's mission as a conscious, eco-friendly designer.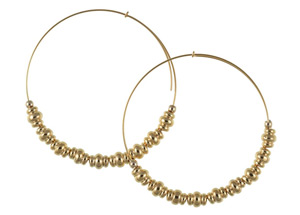 Not only eco-friendly, her Charity by Design line creates specific pieces and collections catered to selected charitable organizations with proceeds of sales donated to the corresponding foundations.
Foundations that they have partnered with and donated to have included Stand up to Cancer, The Humane society, Red Cross and African Rainforest Conservancy to name a few.
Founder and creative designer, Carolyn Rafaelian embraces a philosophy that is based upon using eco-friendly, recycled materials made entirely in the United States. Carolyn believes that by creating designs that support the environment and encourage social consciousness, consumers can use their purchases to make a difference in protecting our planet and our future.
They are most known for their bangles, but also make some really cool necklaces, rings and earrings too. Visit their website and see why they are the must have accessory of the season.
[Images:
Alex and Ani
Jewelry]
top: Alex and Ani Capri Expandable Wire Bangles – $348
middle: Alex and Ani Painted Path of Life Expandable Wire Bangle Set – $168
bottom: Alex and Ani Nile Beaded Endless Hoops – $68