I remember thinking that this would be a great idea back when i used to workout at the gym in college, and now someone actually did it! A gym where you create your own power during the workout. The Green MicroGym in Portland, Oregon is not your traditional gym, it is stocked with generators that are linked in to workout equipment so you actually power the studio (they estimate the equipment and solar panels will cover about 40% of the gyms' operational energy). They are attempting to increase that number even further and have calculated a need of 240 hours per day on the equipment is needed to net a 100% self sustainable studio. They are not above offering incentives and will actually even pay you for every hour you work out with their burn and earn program.
The Team Dynamo and spin bikes are hooked in and collectively generate up to 350 watts continuous power, all of which is fed into the gyms power system or the local power grid. They are working on hooking the elliptical machines into the loop Even the 'traditional' workout equipment is eco-conscious with the SportsArt EcoPowr Treadmills using 30% less electricity than other models. The gym has a real energy conscious atmosphere, with solar panels, energy efficient fans to cool the gym, lighting, all of which is individual member controlled, so its off when not in use. All materials have been thought out with recycled rubber, marmoleum, and sustainable cork flooring, non-toxic cleaners and dual-flush toilets.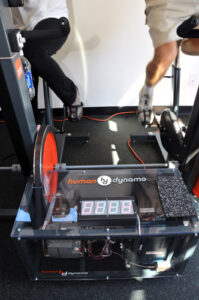 With 2800 square feet of space, with 4 rooms of cardio equipment, free weights, training equipment, and floor space for stretching, yoga and bosu, you should definitely check them out if you are in the Portland, Oregon area. Hopefully in 10 years all gyms will be this energy savvy.