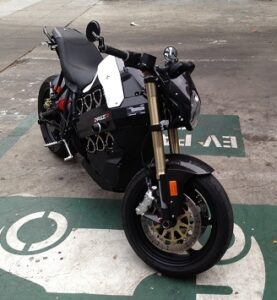 Looks like Brammo's new electric motorcycle is all grown up. The Empulse R is a beefy and badass looking naked sportbike, with a design reminiscent of the Ducati Monster or Streetfighter. Packed with power, it retains the title for world's fastest electric motorcycle in serial production both riding and charging.
Impressive specs showcase the progression of technology in electric motorcycles with performance similar to a twin cylinder 650cc bike. Regenerative braking and quick charging capabilities allow this motorcycle to accommodate the daily riding needs for most riders. The battery warranty inspires confidence with a five year or 50,000 mile coverage
Empulse R Specs

Top Speed:
110mph (177kph)
Horsepower:
40kW, @ 4,500 rpm (54 hp)
Torque:
90Nm (66 ft-lbs)
Weight:
460 lbs / 213 kg
Range:
City: 128 miles* / 206 km
Highway: 58 miles** / 93 km
Combined: 80 miles*** / 129 km
Recharge Time:
2.0 hrs (typical, Level II charging from 20 to 80% SOC)
3.5 hrs (maximum, Level II charging from 0 to 100% SOC)
8.0 hrs (maximum, Level I charging from 0 to 100% SOC)
Transmission:
IET 6 speed gearbox with multi-plate, hydraulic activated wet clutch
the Empulse boasts an impressive 438 MPGe (MPG electric equivalency)
Real contenders in the motorcycle racing world, Bremmo has outdone themselves for 2014. Not only does it look like a legit motorcycle, it performs like one as well.
Being a city sportbike rider myself (Ducati 848), I would be love to swap it out as my daily commuter to cut down on emissions and gas costs.
US pricing comes in at $16,995 for the Empulse, and $18,995 for the Empulse R model.