Ever wanted a personal or private garden? If you have the space, they will come… personal farmers that is. Farmscape Gardens is already in Los Angeles, and coming to San Francisco.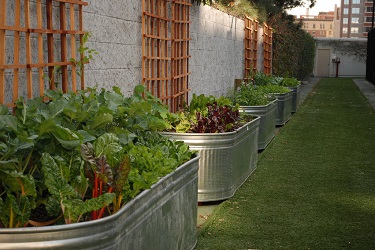 Creating a personal food garden has never been so easy, even if you don't have a green thumb, or think you don't have the space. Farmscape Gardens will come to your home and create your own personal farm, right in your own yard. That's right, professional farmers will come to you, plant and harvest your own garden, and leave the fresh greens, fruits and vegetables on your doorstep, just like a CSA box or farmers market delivery service, but it is your own produce!
Farmscape will come out to your space, survey the land and set up and support a sustainable harvest from your garden directly to your doorstep using raised beds on your very own landscape.
An expert Farmscape farmer will visit your urban farm weekly to manage all aspects of your vegetable cultivation. Our weekly farming service includes successive plantings, pest and disease control, crop rotation, and irrigation maintenance. We make quarterly visits to prune and maintain home orchards. All of our methods are organic and food safe.
-Farmscape
I for one think this is a great idea. Not only does it promote community (or even personal, and local) agriculture, but you are also getting fresh produce from a trusted and known source by expert organic farmers. Fresh and local produce has never been so fresh and local.