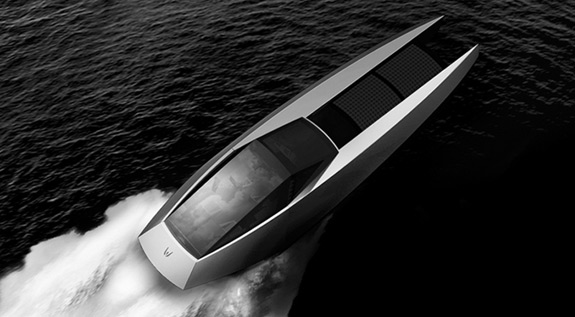 Attention Renewable Energy Nautical Sci-Fi enthusiasts, I have just found your perfect water ride. One look, and you can see why – this solar powered Code-X speedboat looks like just about every cool crescent-shaped pointy enemy fighter ship out there. Specifically, this design brings to mind the Battlestar Galactica cylon raider mixed with the jet powered and dual hull performance boat all rolled into one.
Brought to you by CODE-X AG, a swiss company based in Meggen on Lake Lucerne, their goal is to develop ultra exclusive products utilizing renewable energy sources. While this may seem to cause one to cringe at the eco eliteism, it can allow for a trickle-down effect of renewable energy products first being developed for those who can afford the cost of developing newer technologies.
Since this boat also boasts twin 710 horsepower Ilmor Formula One MV-10 engines, which obviously run on (a lot of) fuel, I must concede that this power yacht will probably not win accolades for its sustainability. Who knows, maybe they will soon offer a solar only version as well. As a luxury hybrid, it packs the latest touchscreen LED controls and automated functionality one would expect from a futuristic space fighter including a virtual anchoring system which locks you to a GPS coordinate without a clunky anchor.
Phototropic shaded windows encased in a kevlar/carbon shell and a UV and heat-resistant deck, your freshly pampered and pedicured feet will not burn while walking barefoot on this sleek lined vessel. A perfect pairing for your electric super sport bike and electric supercar.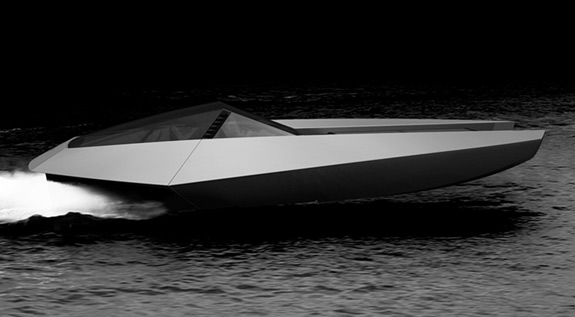 Specs:
2 x Ilmor marine combustion engines MV10-710
Configuration : 90 degree V 10
Horsepower : 2 x 710 HP
Torque : 882 Nm @ 4800 rpm
Full throttle rpm range: 5400 – 6300
Capacity: 2 x 8.3 liters
Performance: 90 kn
2 x electric engines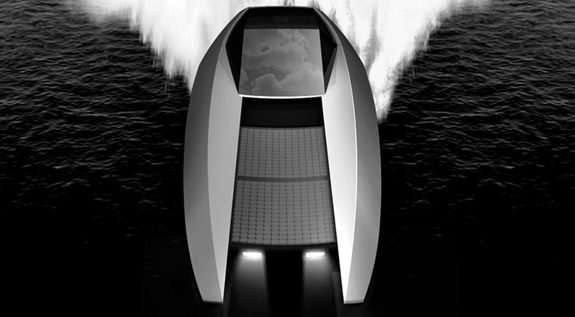 [via
yankodesign
]