Having competed in a few triathlons, I am pretty familiar with the performance clothing out there. You know the stuff, the silky feeling ultra-wicking fabrics made of fancy polypropylene, polyester, and other plastic types.
The process of making these clothes is not the most environmental and has prompted many companies (like Eco-friendly Patagonia) to incorporate recycled materials to help to offset the harmful chemicals released in production. Some companies have chosen to take it one step further and make them out of trash.
I first heard about Atayne through the founders running blog The Story of A Red Shirt, more specifically his 4 Million Steps run from Maine to Florida. He describes a very unfortunate incident with a red performance shirt that changed his mind about sportswear and the creation of Atayne.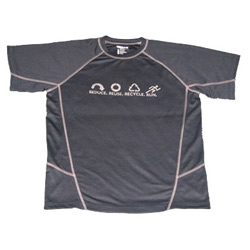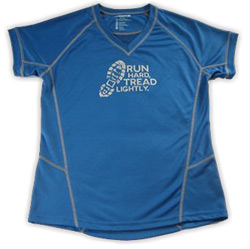 Atayne uses recycled polyester (from plastic bottles) and Cocona (activated carbon from coconut shells) to create an athletic top that is both environmentally sensitive, and excellent at performing. The recycled polyester wicks moisture away from the skin (and is the same stuff that is in other performance wear), and the Cocona works in place of the anti-microbial chemical finish to keep your shirt smelling fresh.
A separate line of athletic performance tops for men and women (including long sleeves) with environmentally friendly messages like "Run Hard, Tread Lightly", and "Reduce, Reuse, Recycle, Run", these shirts pretty much do it all.