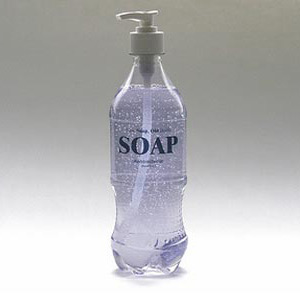 A great idea to help reduce the impact of discarded plastic bottles and preventing further unnecessary packaging at the same time.
New Soap, Old Bottle is a company founded by Scott Amron that bottles new bulk name-brand soap into sanitized used old plastic soda bottles, plastic water bottles, and beer bottles.
Packaged in America and finished with a child safe spray, pump or squeeze top, these new-old bottles will perform as well or even better than those you are used to.
New Soap is an eco-initiative. Our goal is to make it easy for companies to offer their products packaged in old bottles, giving the consumer a greener option.

New Soap, Old Bottle saves two bottles for each bottle sold. That's the bottle that would have been manufactured and the bottle rescued.
Several products and cleaning supplies are available, including liquid soap, car wash, window cleaner (windex), all purpose cleaner (409 spray), dish soap, windshield wiper fluid, with more to come. Plus the bottles are kind of fun in a funky kind of way, now if we could only get the bottles filled with a more eco-friendly biodegradable and non-toxic product like Method. Hmm, do I smell a collaboration?
[via
ecolect
]
UPDATE: It appears New Soap Old Bottle is no longer in business, but I'd like to continue the conversation around the re-use of containers in creative ways. Check out the tag ReUse for more products and ideas!