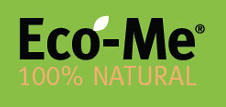 With all the eco-friendly green cleaning supplies out there (Method and now Clorox coming out with greener alternative called Green Works) why not just make your own? Eco-Me shows you how to create your own cleaning products out of baking soda, vinegar, oil and water, and provides you with the tools and containers to do it. Mix to your own concentrations and strengths, and add the provided essential oils to your own taste.
Created by Robin Levine, after her very active and health conscious 36 year-old sister was diagnosed with breast cancer with no family history of the disease, took a deeper look at the chemicals we surround ourselves with. It may be shocking to learn that there is no government regulations on cleaning or personal care products, and many chemicals used in these products are carcinogenic, hormone disruptors and general health hazards. Starting as a home based natural product, Eco-me grew into an environmental 'action figure' when featured in Women's Health Magazine.
Formulated from basic safe and natural household ingredients with the thought that if its safe to eat, its probably safe to use in your home and on your body. Pepper in pure plant essential oils selected for their antibacterial & antiseptic properties as well as a great aroma, and you have a clean, fresh smelling, safe cleaning product. Independently lab tested for safety and effectiveness, the Eco-me home kit test results state a reduction and elimination of up to 96% bacteria, and the removal of dirt and odors from all general household cleaning surfaces.
The bottles provided in the kit are PET #1 plastic, a safe plastic that stands up against the 5% acidity of household vinegar (a core ingredient called for in mixing eco-me products) and since the kits are meant to be mixed and remixed, with available refills you can reuse the bottles time and time again. Additionally, PET #1 is one of the most purchased post consumer plastic from recycling centers, Patagonia even makes fleece out of this plastic.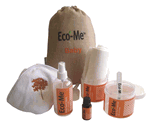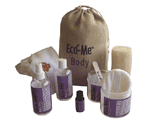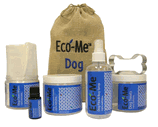 Eco-me is currently sold online and in over 500 stores in the US and Canada and will be expanding into Australia, New Zealand, UK, Ireland and other international territories in 2009. Their natural product line includes a body care kit, a baby care kit, and a care kits for your cat and dog even. They also offer a new line of pre-mixed cleaning products so you don't have too- an all purpose cleaner, wood polish and scrub cleanser. Mix up your own natural cleaning and care products with up Eco-me's natural cleaning products.