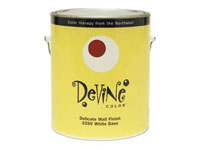 Don't you just hate that freshly painted smell? Those headache causing fumes swirling around your home or office, especially if you have to be inside all day with it. Well much of what causes that headache are VOC's or Volatile Organic Compounds and can lead to Sick Building Syndrome (the building isn't sick, but it is making you sick).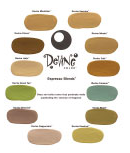 Enter Devine Color, a 99% VOC-free paint that comes in very chic designer colors. This paint is especially popular in the Pacific Northwest, which is known for its gloomy depressive winters, to brighten up your room and your day. Created by an interior designer who grew up in a very sunny and colorful Puerto Rico only to move to a dark and rainy Oregon. Luckily she brought her sense of Caribbean color and blended it with those found in nature, which the Northwest is so known for, resulting in a timeless palate of expressive hues. With trend-proof colors and a simple step-by-step system on their website, you are sure to find exactly what you are looking for in an ageless shade.
For your health and the health of the environment, we blend eco-friendly interior paints with our colors. All our paints are low odor, green sustainable products that meet the strictest requirements of the South Coast Air Quality Management District. -Devine Paints
With the consistancey of yougurt, these are one coat paints, so you dont have to wait all day to apply a second coat or worry about light coats and patches. They also do a great job of covering up old paints and darker colors, so a base coat is hardly ever even needed. Wet color samples are available, so you can be sure to get it right the first time. Check out their website for more information, tips and the Devine story.