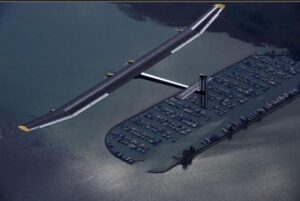 Seven years of hard-work recently culminated in the beginning of a 24-hour test flight of the HB-SIA, an experimental solar-energy powered aircraft. This unveiling comes with a sigh of relief as the flight has already been delayed once due to technical issues with the communications equipment. The intentions of the team are to take the plane up to an altitude of approximately 28,000 feet after which the pilot will determine whether the plane can successfully fly during the night with the energy stored during the day's sunlight.
Powered by 12,000 solar cells, the group hopes that the plane will be a harbinger of things to come – "to have a solar-powered plane flying day and night without fuel," as the team's co-founder Bertrand Piccard puts it. Though the group recognizes that solar airplanes won't be replacing commercial airplanes with jet propulsion engines any time soon, the hope is that the project will be a means of moving towards a world with newer, cleaner technology.
So far, the prototype has been run through a variety of tests, each of increasing difficulty. The present 24-hour flight test is meant to precede a new prototype, currently under development, with which the team hopes to achieve the first ever transatlantic flight via a solar-powered plane, following which are hopes of even circumnavigating the globe.
A project of such scope requires funding, and team has hit the ground running as far as sponsorship is concerned, with a professionally designed website and several different sponsorship techniques. From the typical online store, to the not so typical "Adopt a solar cell" program, the team offers interested like-minded individuals the chance to make a significant, yet non-technical, contribution to the program. Even for those that can't afford to take part in sponsorship, receiving and passing on information is yet another means of supporting this project.