Here is a sampling of what is being circulated around the green blogosphere, hand picked by the Chic Ecologist. Some of these deserve their own posts, so you may see a more in-depth look soon.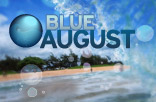 I love the ocean, and I am really getting into Blue August, a new awareness campaign put together by Planet Green diving into everything water. From sharks, whales, sustainable fishing and ocean geoengineering, to diminishing aquifers, desertification, pollution solutions and water footprints, its a month of information, action and activities. Hopefully it will help us keep from adding to the Pacific Trash Island.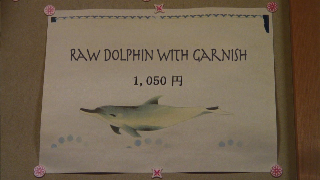 An interesting new documentary movie opening today that takes a hard look at the slaughter of dolphins in a hidden cove in Taiji, Japan. The Cove looks to be a film about dolphins much like Sharkwater was for sharks. I'll be sure to catch it as soon as I can and you can expect to see a film review posted soon.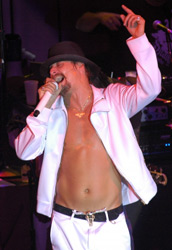 Rock/Rap/Country singer and celebrity Kid Rock has released his own beer, and its green! A surprise to most, it has more to do with the practices of the brewer, Michigan Brewing Company. Biodiesel harvested from the nearby college campus cafeterias of Michigan State University power the brewery generators, and even fuel the companies fleet. The mash waste leftover from brewing American Baddass Beer is then sold to nearby farmers as feed.
While its no New Belgium Brewery, its good to see the macro-brewers getting in on the green scene. To be rolled out nationwide this year
[via
MMN
]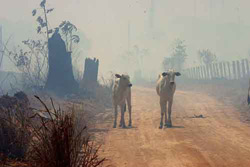 If you love to eat beef, then you may want to take a look at the Beef Amazon Deforestation article by David Cleary of The Nature Conservency. It's not a PETA piece or a slaughter video, but rather an interesting look at how beef has changed our environment and the landscape of the Amazon. The complexity of managing a conservation effort with the needs and desires of farmers and consumers- the push and pull of supply and demand is astounding. It is a frustrating place that many career conservationists, including myself, find themselves in. Although I read this article a while back, it has really stuck with me and is worth the read.
Image: Smoke from burning tropical forest in Para state, Brazil. Credit: leoffreitas through a Creative Commons license.