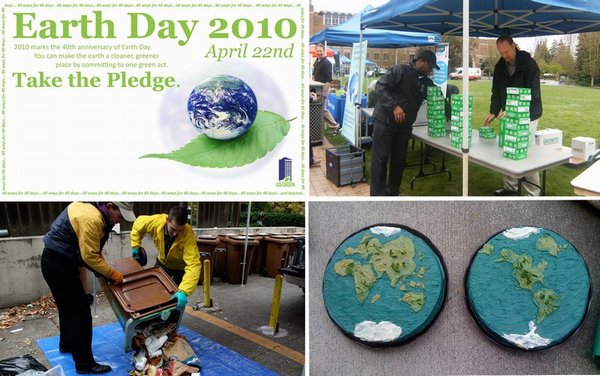 Is the day after this Earth Day called Green Friday as opposed to Black Friday? Either way, I learned a lot on Thursday while at the University of Washington's Earth Day fair on the HUB lawn. With many booths, people, and brochures, the Earth Day event was definitely an educational success. The event included signing up for contests and giveaways, planting a small plant, trying to guess what a typical garbage bin has accumulated and many friendly people to share ideas with about how to live green. Here are some of the companies and groups I got the pleasure to learn more about on our sunny Earth Day!
The University of Washington Environmental Stewardship & Sustainability.
This group is involved with many different projects around UW including the Climate Action Plan which is an institutional plan toward becoming neutral towards our climate.  Some other projects they are involved in are the CFL Exchange Project to exchange all incandescent light bulbs on the Seattle campus with energy savings CFL bulbs, Earth Club at UW, and Project Earth at UW Tacoma. Their website also includes great information on what you can do to reduce your footprint on the Earth. At their booth on Earth Day they handed me a Greenlite light bulb which uses 75% less energy, saves $68 in energy costs, and 1 Greenlite = 12 standard bulbs!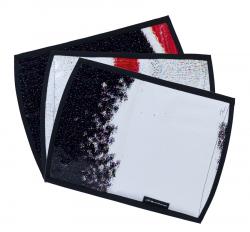 Giving away cookies at the event, Brenthaven definitely caught my attention in a great way. Brenthaven is a green company that makes many different kinds of laptop cases and bags. They even include a new line of bags for the Apple iPad including the Bill-Fold iPad sleeve made from 100% recycled billboard material to make every sleeve unique in color and pattern, and the Ecco-Prene iPad sleeve in black and pink which is made from a neo-prene-like material that is PVC free, 100% recyclable , and will biodegrade if it ends up in a landfill. Better yet, Brenthaven is hosting a scavenger hunt in Seattle with the grand prize of an iPad. Brenthaven will post hints on their Facebook every Monday and Friday starting April 26th and ending May 31st so participants can search (and hopefully find) one of their Bill-Fold iPad cases with a prize and another hint inside. Brenthaven's goal is to "make a high quality product that lasts a lifetime, while doing everything [they] can to reduce [their] carbon footprint." You can view their cases and bags in Apple stores and online and if you catch sight of a Bill-Fold iPad sleeve hidden in Seattle, pick it up!
[ad name="Go-KM-Lgsq"]
The Wallingford Solar Initiative is a group advocating for solar usage in the Wallingford neighborhood of Seattle. At their booth, I learned about this groups excitement about responding to the current economic crisis by creating green jobs. They are modeling their program after the German economic model "100,000 Solar Roofs Program" and hope to install alternative energy centers at Gas Works Park, Hamilton International Middle School and local building and residents' installations. At Gas Works Park, for example, a demonstration wind turbine as an alternative energy possibility could be installed in order to teach local school children and community members about clean energy production.  Wallingford Solar Initiative sees this as a great opportunity to employ people in green jobs installing the equipment.
The SoundCitizen booth displayed a pyramid of their water sampling kits and graduate students working with the program eager to share more about it. SoundCitizen encourages involvement with volunteers and school groups, who voluntarily collect water samples from marine environments, perform simple chemical tests, and then mail samples back to SoundCitizen to be analyzed for cooking spices and emerging pollutants within the water. The program was started in November of 2008 and has included more than 300 volunteers and 500 K-12 students. Calling themselves the "Spice Girls," graduate students at UW have supplied the Puget Sound with sampling kits as well as processing returned samples. With help from volunteers, SoundCitizen has been able to map trends of cooking spices and target emerging pollutants all around the Puget Sound area. If you are interested, make sure to request a kit to find out what is in your nearest water environment!
These groups and programs are very different but are all working towards a cleaner Earth.  If you missed learning about green groups and companies on Earth Day make sure and check out the upcoming Eco-Chic Expo in Northeast Seattle on May 1st. Green events are fun because you get to learn a lot about green companies and programs as well as enter to win prizes and get lots of free stuff that are usually recycled products!