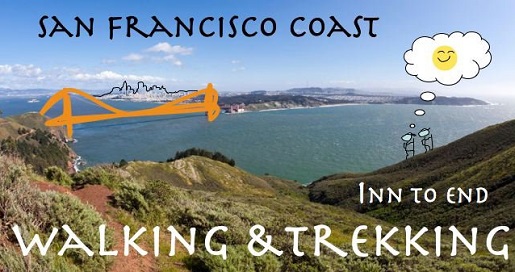 Walking and Trekking place to place has long been a pastime for many Europeans. It is embedded in their culture. Germans and Brits especially enjoy getting out the walking stick(s) and ambling in nature with friends and family. Multi-day long distance trips are now popular with active people in many countries. Today you can choose a wide range of comfort – from self-serve huts to one room guest houses, to luxury Inns. The most popular and established Inn to inn walks are in Europe, but some are sprouting up in the Americas. There are now walks in Vermont and walks in California.
While I was working as a naturalist in the Marin Headlands (the wild protected land just north of the golden gate bridge in the San Francisco Bay Area, California), my father and his new wife started to fall in love over their walking vacations. Their honeymoon was a 2 week Coast to Coast walk in England. The following year, they headed to Ireland for the 7 day Kerry Way combined with 7 day Dingle Peninsula walk. Then they trekked for 14 days on and near Mount Blanc in France, Switzerland and Italy. Fully enamored, they decided to explore Scotland's Great Glen Way and West Highland Way. This followed by England's Southwest Coast Walk, Offa's Dyke in Wales and Cotswold Way. For their next trek, I'd like them to pilot our next new offering – 12-14 days walking the coast from Monterey to Point Reyes.
If you ask them, they will say they love walking. They enjoy seeing a place – every foot, every yard – somehow becoming a part of where you go. "Good for Mind, Body and Soul," says Jeanne, my dad's wife. Plenty of fresh air, deep breaths and time in nature – and exercise with low impact/stress on the body. Personally, walking is only thing I can do for hours on end without getting sore or feeling pain. Luggage is couriered ahead for you, so you carry only what you need for the day – a jacket, maps and some snacks. There is also the challenge of walking 10-20 miles per day, and at the end of it feeling rejuvenated and a great sense of accomplishment.
"You are a different kind of tourist." During and at the end of the day, my Dad loves to sample all of the local fare and beer – guilt-free, of course. He adds, "There are always such eclectic people to meet along the way – also, interesting accommodations, villages, and pubs. Such good restaurants and authentic adventures in between…we like a plan – a rough outline, but not too scheduled."
Self-guided walks are comfortable because they are pre-booked and mapped out, but they still have a feeling of choice, constant discovery and spontaneity. A unique experience unfurls in your brain and body as you walk day after day. You calm down, you relax, you have great conversations and bond with your partner or friend or group. Furthermore, walking in nature has shown to have positive effects on the brain – lowering the risk of dementia, and increasing the size of the hippocampus (memory). As a seasoned guide and tour operator, I can tell you that this experience changes people. Long distance walking will bring a person back to center, will clear one's head, and will offer deep contentment.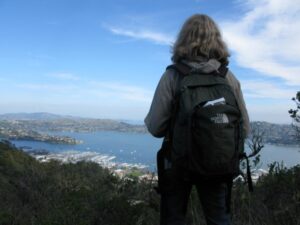 While they were strolling along peaks in the French Alps, I was planning a walk for them to try here in Northern California. West Marin is a very unique place that is hard to access for tourists. And if they do make it over, they are sightseeing from their cars on Highway 1 and parking at the Muir Woods National Monument. As a long time local educator and naturalist, I felt that visitors were not getting the best experience that they could – furthermore, they were encouraging traffic and road building in ecologically sensitive places. I wanted to create a different way to see beautiful San Francisco – a low impact, outdoor experience that included authentic enjoyment of the extraordinary nature, culture and characters of Marin County and beyond. I knitted together my favorite trails and Inns in West Marin. I researched more trails, the best maps and asked friends and family for input, and finally put together the Redwood Walk. Although it sprinkled rain for the pilot walk, it was overall a success – and three seasons later, Inn To End now has four available Walks spanning 3-8 days, and many happy customers.
All Inn To End walks start in San Francisco and head across the Golden Gate Bridge and into bay side sailing town of Sausalito. You will climb up and out of the sea level town through a complex network of alleyways, historic steps; between houses of the rich and famous that boast views of the city, bay and bridges.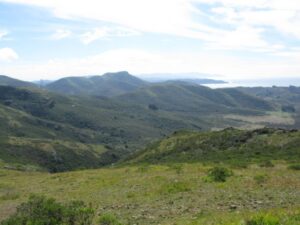 Once at the top, you are surrounded by nature and are able to spot quail, deer, hawks and maybe a coyote. The air smells of coastal sage and salty ocean breeze. Views galore as you hike down to the sleepy village of Muir Beach and to the lone building by the rocky ocean – which happens to be a your unique boutique Inn, styled as a 16th century English Pub. The next day your journey may continue up the coast to Stinson Beach, to Inverness, to Point Reyes and Olema, or you may climb to the top of Mount Tamalpais and find yourself among majestic redwood giants in a foggy forest perched in a nest high above the picturesque hills, ocean, and city by the bay.
Nicole LaCount is owner and operator of Inn To End Walking and Trekking Experiences and has written several articles on travel here on The Chic Ecologist.