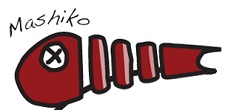 I am a true sushi lover, but getting information about the fish I am eating can be a difficult ordeal. Most sushi places aren't very forthcoming on where they get their fish, or even what kind of fish it is you are actually eating (Hamachi is often labeled as yellowtail when it actually should be Amberjack, although it can vary between several species depending on the restaurant – same with Tai or snapper).
The Monterey Bay Aquarium puts out a wonderful Seafood Watch sustainable sushi guide both as an app, and on their website as a printable card, and Sustainable Sushi has great information too, but this can still pose a problem when it comes down to sourcing (many ratings are high for wild caught or sustainable fisheries, but low for farmed or catch method, like bottom trawlers).
Enter Mashiko, a sushi restaurant in West Seattle that maintains a fully sustainable seafood menu. Mashiko is also Seattle's first fully sustainable sushi bar

We have solid relationships with several top seafood sustainability experts. We appreciate the support we have received from both customers and industry insiders. Our education has been intense, and it will be ongoing.

— Hajime
Mashiko factors in fish populations, source traceability, fishing methods, and seafood farming practices.
Traceability refers to the ability to find out where your seafood came from. This includes knowing specifically where, as well as how, it was caught.
Some fish populations are in steep decline. We must allow these species time to repopulate so that we can enjoy them responsibly for generations to come.
The most sustainable fishing methods do not cause damage to the oceans or allow for much bycatch (unintended creatures caught during fishing).
Responsible farming practices include providing quality feed, being antibiotic-free, and taking great care not to disturb the surrounding environment.
[ad name="JPrectangleSTD"]
I was very impressed, not only with the quality of their sushi, but also their variety. However, if you are expecting a generic experience, this is not the place for you. The menu is ever changing and leaves off many of the typical, but unsustainable, menu items.
Located in West Seattle, Mashiko Japanese Restaurant and Fully Sustainable Sushi Bar can be found at:
4725 California SW
Seattle WA 98116
Also, check out their website for a great interactive experience including their menu, a live web cam, bios, ratings, sushi classes and lots of sushi information. Be sure to call ahead for reservations as this place is always packed and it can be difficult to get a walk-in, even at the sushi bar!