When one speaks of Thailand, often images of elephants are conjured up. Images of elephants are everywhere, from temples and shrines to logos and even the name of their beer (Chang, which means Elephant in Thai). The Thai people seem to have a deep reverence for these magnificent creatures, however, there is a darker almost contradictory side to this appearance.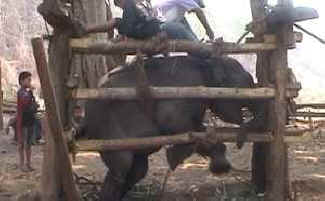 Almost all of the domesticated elephants (those used for work and human contact) have been subjected to a 'breaking of the spirit' in a device called the Phajaan.
Squeezed into a cage only large enough to contain the baby elephant, they are chained into place, beat with sticks of bamboo and poked with sharp devices with hooks and nails. For 6 days or even longer, these elephants as young as 4 are subjected to this brutality without food, water or shelter. This is usually the time they are permanently separated from their mother and family, to begin their life of servitude.
Elephants have largely played a working role in Thailand. Used as war machines by Alexander the Great, they have been used as working animals for logging and farming for generations. With Thailand's dwindling forests, and now a ban on logging, these elephants are finding themselves out of work and in trouble. Many elephant owners and mahouts (elephant keepers or drivers) have adapted to the tourist industry by using their elephants for jungle treks and walks. Others have used brutal torture techniques to train their elephants to perform tricks or paint. Often in cities around Thailand, you will see elephants begging in the streets for their mahouts, which generate a great deal of income for the owner at a great expense to the elephant.
With all of this brutality and pain, there is a ray of light. The Elephant Nature Park along with its founder, Sangduen Chailert, known as 'Lek', have created a sanctuary for these retired and abused elephants and is educating people around the world about the plight of these Asian Elephants.
[ad name="Go-JP Rectangle"]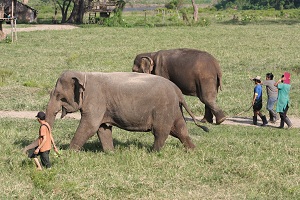 Her creation of a semi-wild elephant sanctuary illustrates the value of these creatures beyond their livestock classification. It allows visitors and tourists to enjoy truly happy and free elephants, as an alternative to the repressive and usually abusive elephant shows.
But it doesn't stop there. The Elephant Nature Foundation has multiple projects benefiting elephants including: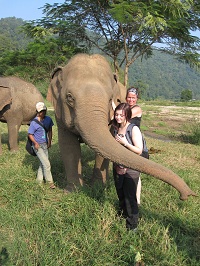 Most of the 34+ elephants roaming the Elephant Nature Park are retired logging elephants, entertainers or street beggars, but there are a few rescued elephants which are victims of other, less direct human violence- land mines. At the time of my visit, there were two elephants at the park with extensive injuries to their foot and legs as a result of stepping on land mines.
Day, overnight and extended visits to the park are available, as are the popular working 'volunteer vacations' which give you a more immerseive and rewarding experience. Donations and (very affordable) elephant sponsorships are always welcome, visit the Elephant Nature Foundation website for more information.