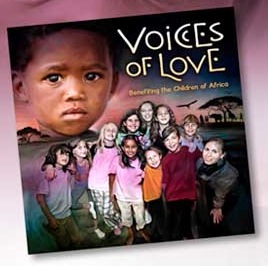 Over the holidays, I learned that a extended family member is doing some great things in the name of charity, and I wanted to share it with all of you.
One day 7 year old Nikki and her Mom were watching "American Idol Gives Back." In this case, the judges traveled to Africa to promote charity. Nikki immediately gave her entire allowance to charity.

"Wow" her Mom said, "You saved three children." Nikki burst into tears. "That's not enough. What more can one child do?"
Nikki brought together 9 friends, ages 8 to 10, dedicated to this cause. The result is a CD composed of inspirational songs, stories, and the children's dreams for this CD.
They have many classics such as Amazing Grace, Ode to Joy, and sing-alongs like She'll be coming Round the Mountain paired with stories. You can hear samples, meet the children, purchase the CD or donate to help their cause on their website ChildrensVoicesforCharity.org
100% of the proceeds are donated to Doctors Without Borders Children's Malnutrition Program.