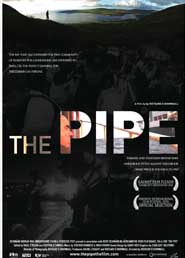 The Pipe is your classic David vs Goliath story, except that it's not. It follows a small Rossport community fighting against an invasion by Shell Oil and the Irish State. Gas found off the remote coastal village prompted a clash between farmers, fisherman and huge numbers of private security and police.
Behind the scenes, you experience the tragic division of community, neighbors and friends when things turn dire. 5 locals decide to spend 94 days in jail when faced with an 'eminent domain' situation, protesting the pipeline's path across their farming fields and land.
All seems lost for this town of age-old way community residents, with trades and a way of life passed down for generations. Beat in the courts, on their land and with seemingly no recourse for the destruction of their livelihood, desperation is apparent and a true theme of the film.
[ad name="JPrectangleSTD"]
Genre: Documentary
Running time: 83 min.
Director: Risteard Ó Domhnaill
Producer: Rachel Lysaght
Festivals: 
Green International Film Festival
Celtic Media Festival
Wurzburg Film Festival
Boston Irish Film Festival
International Documentary Film Festival Amsterdam
Foyle Film Festival
Galway Film Festival
I enjoyed getting to know the community, each individuals struggles, and the raw emotions splitting the community. It was raw and real. The huge overwhelming force displayed by the sheer numbers of police and private security provided to secure the pipeline installation and the hopelessness in fighting against it is undeniable.
While the situations and cinematography provided much of the story, I did have some trouble deciphering all of the dialog as most of the individuals have varying degrees of Irish accents. They would have done well to have had some narration to help guide us through and cement the film together a bit more, but all in all it is a raw, desperate struggle against a seemingly unbeatable foe.
Find out where to watch it on FilmBuff