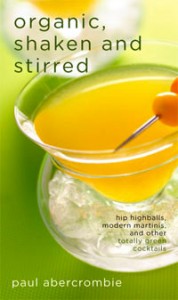 I recently received a great new organic cocktail mixer book sent to me by Paul Abercrombie, a true connoisseur who also is a regular contributor to The Washington Post, Wine Enthusiast and Gourmet magazine. His new book Organic, Shaken and Stirred: Hip Highballs, Modern Martinis, and Other Totally Green Cocktails is a fresh look at mixology from a more green perspective. Not limited to the addition of organic spirits and liquors, but an exploration into local eco-friendly concoctions, new flavors, textures and organic twists on tried and true classics.
With tips on how to stock your green bar, drink history and background, and in-depth explanations, it is as much a industry insight as it is a recipe book. Not your standard bartender fare, a few treasured and exotic drinks require complex preparation for amazing results that will astonish and impress your party guests.
From organic vodka to local organic gin and more than 60 cocktails (most of them original), this book will keep you entertained with a taste for everybody. The beautiful pictures and serving suggestions only add to the mouthwatering appeal of the drink itself.
Drink credits are listed so you may find and taste the original cocktail by its creator, whether its a hip lounge in Manhattan or a trendy Canadian hotel bar. Online resources assure that you will be able to source all of the ingredients found in the book, no matter how obscure.
Check out his blog for more tips, recipes and green cocktail news at: www.organicshakenandstirred.com