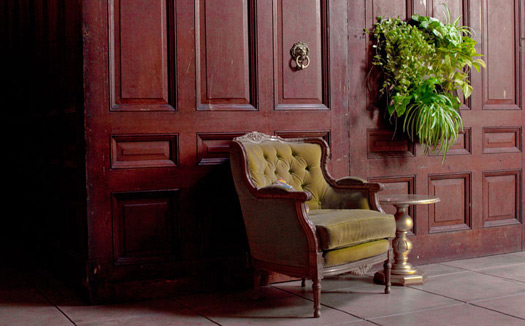 I've been fascinated by green living walls and vertical gardens, but they have always seemed a bit complicated or labor intensive- at least for a small rented apartment. A company called Woolly Pockets has solved that issue, in some very interesting ways- the most bizarre is a mobile version.
Of course you can imagine what a hit this would be in a fashion runway show, and the eccentrically fashionable Lady Gaga even has a custom Woolly Pocket Vagabond purse filled with air plants.
Their Vagabond purse is actually a DIY version, so you are able to fill it with your favorite type of plants and will still keep your personal items dry thanks to a waterproof barrier.
They also make some great small hanging pockets of all sizes so you can hang plants just about anywhere, in any combination. Bring your walls to life literally in just about any space. My favorites are the Wally 3 and Wally 5 pocket which would be best suited for a patio or outer window sill.
Freestanding pockets can replace pots and can be arranged in wonderful border-less patterns or even as a faux green roof. All options are flexible, breathable, and modular gardening containers for both vertical and horizontal applications. The great thing is that they are almost entirely made from industrial felted recycled plastic bottles and made by a pretty green company.