It's May 8th. Mothers Day is May 9th. Time to celebrate this excellent occasion with the perfect present for your favorite Mom. Did I mention it is May 8th? Don't worry! Here are some last minute recipes for eco-friendly gifts or even simple add-ons if you've already gotten something for her!
A Clean-Green Basket. Ingredients easily picked up at your local grocery or hardware store. Do your own take on a fruit basket and create a practical gift that your mom will feel proud to use.
Ingredients:
• 1 large basket
• A few leafy twigs

• Seventh Generation disinfecting wipes, multi-surface, and/or bathroom cleaner. Seventh Generation focuses on environmental sustainability and how they can provide products that reduces pollution and keeps natural toxins out of the air. They disclose all of the ingredients within their products to ensure the health of your home by producing safe and effective cleaning supplies. Check out their product coupons as well.
• Scotch Brite Greener Clean scrubbers, soap pads, and/or sponges. The soap pads are made from 100% recycled plastic, sponges are biodegradable and made from 100% natural fibers, and the scrubbers are made from 50% natural scrubbing fibers.
• Method Squeaky Green Laundry Detergent. Made from a specialized blend of cleaning agents called surfactants, from natural coconut oil, Method's squeaky green detergent is biodegradable, phosphate, dye, and fragrance free and is hypo-allergenic. Method also discloses all ingredients and even how each element affects your health and the environment.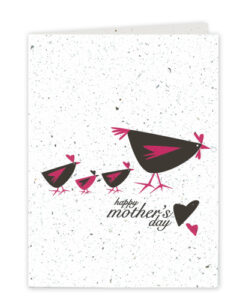 • Seventh Generation Bathroom tissue, napkins, paper towels, and/or trash bags . The bathroom tissue, napkins, and paper towels are made from 100% recycled paper (and super absorbent may I add) and the trash bags are 55% recycled plastic.
Preparation: Gather products in basket and arrange twigs full of leaves around them to add to the greenness! Garnish with a bow or even a plantable Mothers Day card from Botanical Paper Works who make cards and paper which contain seeds!
A Coupon Book. A do-it-yourself coupon book is a cute and easy gift that goes a long way.
Ingredients:
• Colorful construction paper
• Pens, crayons, or colored pencils!
Preparation: Just staple or tie together pieces of construction paper and write things you'll do for your mom on each page. Here are a few to get you started! A coupon book is easily customizable to things your mom wants!
• Redeem for one hour of watering plants.
• This coupon is good for one gutter cleaning.
• Cash in for one use of the clean-green basket and a clean kitchen.
• Redeem for one organic grocery shopping trip.
[ad name="Go-KM-Lgsq"]
Spa Day. Everyone loves being pampered and we know our moms deserve it.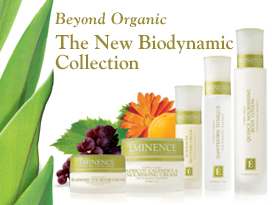 Ingredients:
• Eminence Organic Skincare Biodynamic Collection products. Eminence creates these products with ingredients from their certified Biodynamic farms. Products are at least 95% organic, created with wind energy, and boxed in recycled packaging.
• A subscription to Organic Spa Magazine.  Keep your Mom informed of new products and ways to stay relaxed at home or work.
• Two avocados. An avocado face mask will hydrate dry and sensitive skin while an avocado hair mask will transform brittle hair to softer and shinier hair.
• An appointment at Sugar Sugar. Sugar Sugar is an organic spa that attended the Eco-Chic Expo last weekend. They specialize in sugar hair removal (a sugar based paste that is never heated like normal wax), natural and organic facials, tanning, and lash and brow tinting.
Preparation: Combine organic skin care products in a basket and decorate with flowers or tissue paper.  Also, educate yourself and your Mom on skin care ingredients to avoid.
Let us know if you found a great way to give your Mom a green present this Mothers Day – there are definitely a lot of eco-friendly products and events she will truly enjoy. Either way, enjoy your Mothers Day!
A quick savings spot: Brenthaven (who I mentioned were at UWs Earth Day Fair) has a great Mothers Day Special – Take 30% off ANY case on their website using the promo code: MOTHER. Valid until 5/14/10, 12am PST.