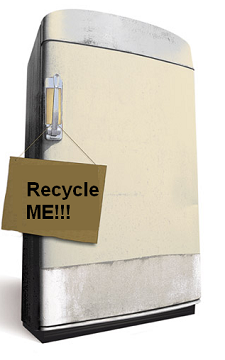 I introduced these guys a little while back when they started their first landfill diverting project of recycling mattresses, they have now expanded to home appliances! Now serving Washington's King County, they offer local residents the easiest way to go green by recycling old appliances that are taking over our landfills!
Appliance Away is the best way to dispose of an appliance in an environmentally responsible way in Seattle.
…you are not only helping our environment, but also boosting our local economy. That's right, we recycle and re-purpose as many materials as possible (up to 90%) to keep things out of the landfill and cut down on pollution.
Currently accepting all types of appliances (and box-springs and mattresses) check out their website to schedule a pickup or for a quote. Here is a general list, but don't hesitate to contact them directly if you have something you want to keep out of the landfill!
[ad name="JPrectangleSTD"]
Air Conditioners
Dishwashers
Washing Machines
Dryers
Kitchen appliances: Freezers, Refrigerators, Ranges, Stoves, Ovens, and Microwaves
Water Heaters
Electronics: TV's, CD Players, DVD Players, Cameras, Camcorders and Video Game Systems
Telephones and Cell Phones
Computers
Monitors