People against dirty. Methods line of products covers everything from bathroom to body care, all while being non-toxic biodegradable and great design to boot! Products are formulated from all natural materials like soy, coconut and palm oils, so you know they are easy on the environment. They even come in fragrance-free forms for the hypo-allergenic.
Carbon credits and renewable energy offset production and employee commutes making the company more than just a producer of eco-friendly products. Additionally the company does not test on animals, so your pet will be happy about method products as well. All wonderful things we like to hear about a company doing the right thing. But wait, there is more! Have you seen the packaging? Not only is it made from the most readily available materials, to allow for easy recycling, but it looks great and is functional too. World-renowned designer Joshua Handy was enlisted to give the product line a modern stylish look, so you can proudly display that bottle of hand soap.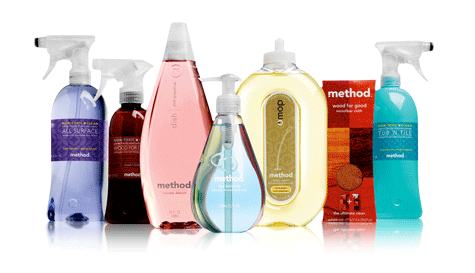 things we're for:

cleans on contact
derived from plants
biodegradable
fresh lavender
bare hands
recyclable packaging
pro-clean

things we're against:

kills on contact
derived from chemical plants
biohazard
fake pine
rubber gloves
reckless packaging
anti-bacterial
Within the wonderland that is their website, you can order new products and refills. It even show you the ingredients of each product with detailed descriptions of the purpose of it being in there.
Method is readily available and can be found at large retailers such as target and bed bath and beyond.