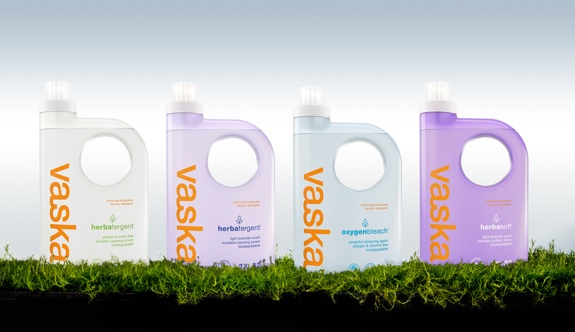 I have been interested in the different eco friendly laundry detergents out there for awhile now, mostly- what separates them? Are some better than other for the environment, are some better at cleaning? I set out to find out. I have been using Second Generation and Method laundry detergent for some time now, and from time to time I will buy Ecos, all of which I have been very happy with.
Enter Vaska, fairly new to the scene – they were nice enough to provide me with bottle to try out, so I gave it a shot. The Vaska came just in time to soak a fish oil stain out of a brand new pair of boardshorts, and it worked flawlessly. I liked the unscented formula although it had a very mild lavender scent due to the botanical solutions being derived from real lavender.
In a wash-off against leading brands certified by the major laundry industry group, Association of Linen Management, VASKA outperformed all the brands tested: Seventh Generation, Mrs. Meyers, Ecover, Ecos, Tide and Arm & Hammer. VASKA removed eight common household stains: ketchup, mustard, red wine, grass, dirt, lipstick, coffee, and olive oil, more effectively than all of its competitors.
Not only does it clean great, it is also clean when it comes to the environment. Recognized by the U.S. Environmental Protection Agency's (EPA's) Design for the Environment (DfE) program, both laundry detergent formulas are screened for toxins in their ingredients. It is also biodegradable and not tested on animals with only the following ingredients:
* Plant-based surfactants
* Vegetable conditioner
* Water-soluble degreasing agent
* Lavender extract
* Lavender scent (Light Lavender only)
* Filtered water
Several hotels are seeing the benefit of switching to an eco-friendly detergent, including the Ritz-Carlton and Joie de Vivre hotels, even the San Fransisco Giants baseball team has switched to Vaska for all of their laundry needs. They also make all-natural eco friendly fabric softener, oxygen bleach and stain removers so your laundry can be clean and green.