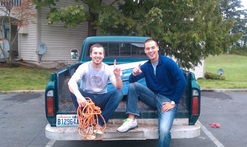 If you live in Seattle, Washington, and have a bed mattress that needs replacing or disposal, you are in luck! Seattle's Green mattress disposal company Bed Be Gone is the best (and most eco-friendly) way to get rid of your old mattress.
While most places dispose of bed mattresses in a landfill, Bed Be Gone actually disassembles them and re-purposes or recycles most of the materials in a green way. See how they do it in the video below!
"By disposing of your mattresses with Bed Be Gone, you are not only helping our environment, but also boosting our local economy. That's right, we recycle and re-purpose as many materials from your mattress as possible (up to 90%) to keep things out of the landfill and cut down on pollution."
[ad name="JPrectangleSTD"]

Prices depend on the number of mattresses being recycled (they also take box-springs) and whether you choose to drop it off or have them pick it up, but are very affordable and usually cheaper than disposing of it at the dump or landfill.
While you are in the market for a new mattress, you should consider checking out organic natural mattresses.