It's almost Valentines day again, and we are quickly approaching chocolate season! Equal Exchange has come out with two new chocolate bar offerings, a chocolate caramel with sea salt bar, and an Ecuador origins 65% cacao bar.
Last years Valentines Day chocolate from Equal Exchange was equally as delicious and well received. Lucky you, we have a special coupon code for $5 off and for those who comment or tweet this article will be entered into a free giveaway! See below for a coupon code and details!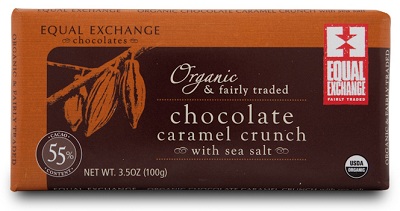 With ingredients from Fortaleza del Valle co-operative in Ecuador, cocoa butter from co-ops in the Dominican Republic and Peru, and fairly traded organic sugar from farmer co-operatives in Paraguay. Both are vegan and soy- and gluten-free.
[ad name="JPrectangleSTD"]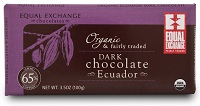 Both are organic and fair trade, so they are not only good for you, they are also good for the environment and the people who grow the ingredients.
Head on over to Equal Exchange and purchase a case of chocolate bars and get $5 off with the code chocolate5. And tweet this article or share it on facebook by Feb 7th, 2011, and get entered into a free giveaway!