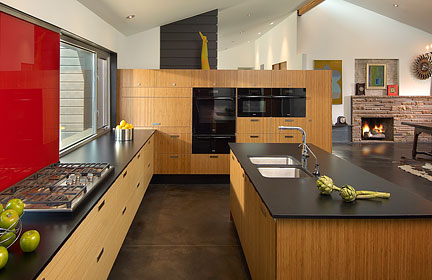 I love bamboo. Its beautiful, its durable, and its a great sustainable and renewable resource, so I am pretty excited about Plyboo by Smith and Fong. Certified by the Forest Stewardship Council (FSC) and available for LEED credit by the U.S. Green Building Council (USGBC), these surfaces and flooring are all about sustainability. Made from FSC certified bamboo and palm, these flooring and paneling alternatives have a beautiful and unique modern but warm look.
Smith & Fong's Plyboo flooring, plywood and veneer are derived from Moso bamboo harvested from a forest that requires no irrigation, fertilizers or pesticides. Each year, only 20 percent of the plantation's bamboo (or only the five-year growth) is cut, ensuring the forest canopy remains intact and the ecosystem is not disturbed.
Both the Durapalm and Plyboo flooring, veneer and plywood use a urea formaldehyde-free adhesive called PlybooPure™ and pass the California Air Resources Board (CARB)'s formaldehyde regulations for composite panels. It also earned the world's first non-wood FSC certification for its bamboo resource in China, providing third-party validation of a truly sustainable industry. Additionally, Smith & Fong retain a relationship with the actual bamboo farmers, to ensure the quality and sustainability of the operation.






Plyboo flooring was also picked as a Top-10 Green Building Product by BuildingGreen, the publisher of Environmental Building News, a highly regarded architecture and design industry sustainability resource.
Head over to the Plyboo site and check out all the different sustainable surfaces, flooring, veneers, plywood and paneling for your kitchen or home.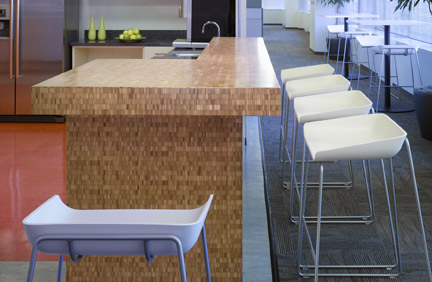 [via
Jetson Green
]