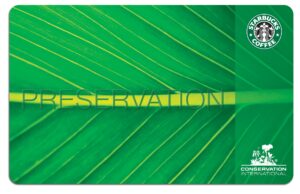 If you are a coffee lover like me, receiving or giving a coffee gift card will put an instant smile on your face. With the new Conservation International Starbucks Gift Card, you get a little something more to smile about. From March 9th to December 31st, 2010, every time the CI card is used, Starbucks will donate five cents to Conservation International in order to help with their efforts to decrease deforestation and continue to find solutions to climate change. Starbucks Coffee has teamed up with Conservation International for more than 10 years in order to improve ethical sourcing of coffee and fight the global climate change that threatens the growth of coffee beans.
Peter Seligmann, Chairman and CEO of CI states that "the alliance between Starbucks and Conservation International is an important step in reducing emissions from deforestation, which accounts for 20 percent of all the carbon released into the atmosphere – double the world's cars, trucks, and trains combined. Our partnership engages one of the great corporations, their customers and coffee farmers in this battle against climate change. By stepping up this partnership we have aligned our existing work and success to address the most pressing issue of our time." For details about Conservation International and their relationship with Starbucks visit www.conservation.org. While there, take time to calculate your own carbon impact and measure your eco-footprint at www.conservation.org/act/live_green/carboncalc/Pages/default.aspx.
In 2003 Starbucks and Conservation International designed Coffee and Farmer Equity (C.A.F.E.) Practices in order to improve the conditions of farmers, their communities, and the environment which are illustrated by Starbucks™ Shared Planet™. To learn more about this initiative visit www.starbucks.com/sharedplanet. Here you can take the mug pledge to use reusable mugs (Starbucks will take $0.10 off your drink price), volunteer to volunteer in local communities, and share your own ideas about Starbucks™ Shared Planet™.
[ad name="Go-KM-Lgsq"]
Made with at least 80% of post-industrial recycled materials, the CI card can be reloaded for an indefinite amount of uses and can be picked up at participating Starbucks stores in the US. The card never expires and Starbucks does not charge reloading or usage fees. Customers can also register their card at www.starbucks.com/card in order to receive benefits from the My Starbucks Rewards program. If you are looking for a present to give on Easter, or a gift to give to your self to get your coffee fix and help the environment, the CI card is the perfect (free) green purchase.