Windshields are making a comeback, and they are being recycled to invade everything from wine glasses to flower vases. This is a great thing given how many cars are disposed of each year, just think of all the automotive glass windows and windshields we can save.
Most of the recycled glass designs I have found are handmade in places throughout the world including Colombia, Guatemala, and exotic Portland, Oregon. Some are even produced in wind powered facilities, decreasing the environmental impacts of the manufacturing process.

Wine glasses are always in demand – they tend to be fragile, and the user can sometimes be overly intoxicated and animated, leading to your wonderfully matched six and twelve piece sets slowly dwindling down to a hodgepodge of types and styles. Worry no more! These thick stemless glasses provide the durability and modern design for the most spirited of guests.
While thick wine glasses aren't in the chic, it's difficult to find thin recycled windshield wine glasses. The thinnest I could find were from VivaTerra, now if we could only do something about that lip!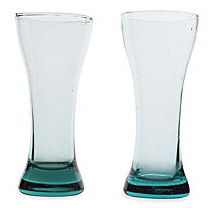 When I think of what would make a good recycled glass windshield product, I go straight to beer glasses. Where else is it a benefit to have a thick, weighty glass of substance? These from UncommonGoods are the tasteful style that one might find at a high-end brewery. The tint from the windshield is preserved in the glass, giving it a slight blue-green hue, adding to the intrigue.
Windshields aren't the only source either, recycled wine bottles can be made into some beautiful vases and glass cups.
I have found a few different places to find recycled glass treasures, among my favorite are eco-friendly retailer Branch Home and VivaTerra. You can even find some very affordable everyday recycled glass pieces from Amazon
With the increasing selection of recycled glass products in modern beautiful designs, there is no reason to buy 'virgin' glass anymore. Plus the slight color hues and uniqueness give each piece a bit more character.