I usually tote my lunch to work in a re-used paper bag, but by the end of the week that bag ends up looking pretty haggard. Thankfully the guys over at Neogreene heeded my call and sent me one of their new eco-friendly insulated lunch tote along with a waterbottle cozy.
Many of you may remember my article a little while back about green neoprene technology, where I first mentioned Neogreene and their laptop sleeves. They have since expanded their line to include lunch totes, water bottle cozies and wine bottle carriers in a spread of color combination's.
Aside from how green they are, they are also very cool looking and well constructed. I have to be honest in saying the shapes are a bit feminine for me (rounded corners and such make them look a bit like womens handbags) but my girlfriend loves them. I'm not giving up the cozy though- it is perma-plastered to my stainless steel kleen kanteen.
As you may have noticed, all the products have animal names. These are endangered species, a reminder that GreenSmart now donates 10% of net profits to the World Wildlife Fund and other environmental organizations.
What makes Neogreene better than Neoprene?
All water based adhesives
No Chlorine
PVC & Lead Free
No Formaldehyde
No VOCs (which means no neoprene stink!)
25% less petroleum than neoprene
25% less energy (compared to producing neoprene
Even the green coloring of the Neogreene is a water based dye (neoprene cannot be dyed)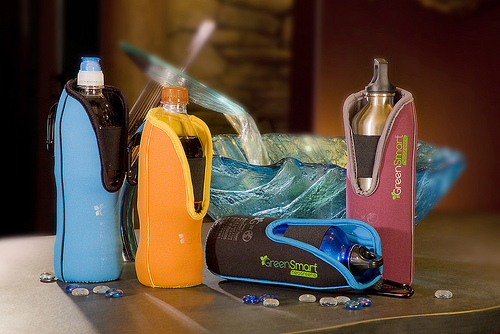 The prices are right for these totes running from $25 – $35. The water cozies are priced right around $14 while the wine totes are $16 and $20 for the single and double bottle carrier, respectively. A great stylish way to transport your lunch and water bottle insulated in a re-usable eco-friendly way.