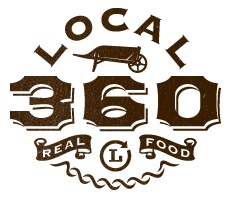 Local 360 is a relatively new restaurant in Seattle's Belltown area serving locally sourced breakfast, lunch and dinner. The premise behind their name and their philosophy is every raw ingredient is sources within 360 miles of Seattle, and they really do mean it. Browse even their drink menu, and you won't find a spirit, liquor or wine produced any further away than Idaho (most are from Washington and Oregon).
Our products are always sourced from the most humane farms we can find. Ideally, 90% of our raw ingredients come from within 360 miles of Seattle. Lemons, limes, coffee and a few other items just don't grow in Cascadia anytime of the year.

We source these items Certified Organic from the closest place possible. Nothing we are doing is innovative or new- on the contrary, we are returning to a simpler way of functioning as a business. We have stopped asking "what is new," and have begun asking, "what is best."
[ad name="JPrectangleSTD"]
Focusing on Local, Sustainable, Organic and Natural foods from trusted local sources is what Local 360 is all about, and it comes through in their food. From selecting seafood with top ratings from Seafood Watch to local craft distilleries and Organic West Coast citrus juices, the flavor and freshness shines through resulting in extraordinary flavors from even the most simple ingredient.
Located on 1st and Bell in Seattle's Belltown district, they are open from 9am until 'Late' (figure 1am-ish) daily. Visit Local 360's website for menu's, news and sourcing information.