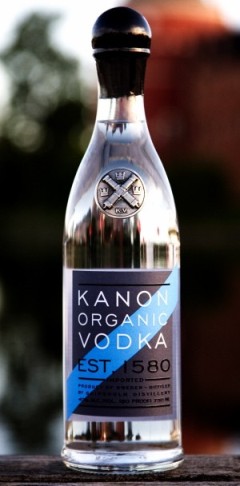 A hot new introduction from a 400 year old distillery, Kanon Organic Vodka originates from the Gripsholm Distillery in Sweden. Dating back to 1580, this old world distillery with royal history was the largest distillery in Sweden supplying its foundry workers with high quality spirits from locally grown organic wheat. High quality organic vodka offerings from Europe are ever increasing with very little competition from state-side distilleries.
It is not just history which sets Kanon Organic Vodka apart from other organic liquor, it is also the unique organic process avoiding an 'over-distilled' vodka, providing a clean distinctive natural flavor without the typical vodka burn. I found it quite appealing on the rocks as well as paired with a mixer.
Going beyond just organic, the Gripsholm Distillery is run on wind and hydro power with all by-products being renewed. Even the Kanon bottle is made from 60% recycled glass giving it another bump on the eco-friendly scale. Locally produced organic wheat cuts down on transportation costs, and supports the local farmers.

[ad name="Go-JP Rectangle"]
Kanon Organic Vodka just launched recently in New York City, and will be expanding to Los Angeles in January of 2011.