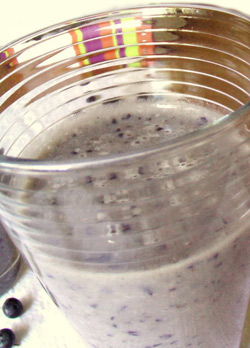 Just wanted to share with you my favorite new breakfast treat from the blender. If you are a smoothie fan, give this one a blend, if not, you will be after tasting this!
Roasted Blueberry Banana Breakfast Smoothie
Yeah, sounds a bit funky, but it's the best way I could explain it. The roasted flax seeds give it a great toasted flavor which mixes really well with the banana. Great way to get your fiber, Omega 3's and some potassium with a shot of anti-oxidants.
1 Organic Banana
1 cup Organic frozen blueberries
1/4 cup Roasted Flax Seeds (I usually get them from Trader Joes)
2 cups Organic Soymilk
1/2 cup Organic Vanilla yogurt
1/2 cup of ice
Blend away!
Do you have a favorite smoothie with a bit of a twist? Share it here in the comments section below.