When going to the grocery store nowadays, its easy to find your favorite foods and produce in an Organic alternative. Several coffee chains are are migrating over to organic beans, so what about other beverages? Slowly making head-roads, Organic spirits and liquor are now finding their way into your favorite night spots. Just make sure not to pollute your organic liquor with non-organic mixers!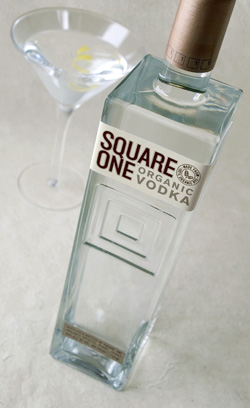 Square One Organic Vodkas have been the first to make major inroads into mixed drink establishments, and I bet you will see their trademarked square bottle on the shelf at your favorite bar. So what makes their vodka so green? Inspired by the community's embrace of the land, Square One Organic Vodka founder Allison Evanow was enticed by the environmental issues raised by the community farmers' market.
Not only is the vodka distilled from organically grown North Dakota rye, the packaging and the process were also made eco-friendly. Avoiding serious chemicals, they choose not to frost the bottles, and instead used easy to peel labels (makes a great vase for reuse) made of sustainably grown and renewable fiber sources bamboo, bagasse and cotton. Coming full circle, their minimally processed organic rye grain byproducts are great protein and fiber for organic dairy farm feed.


Juniper Green Organic Gin boasts the first organic London dry gin and is made from organic grain and organic botanical herbs. Because no chemical fertilizers are used in the growing process, and no chemical fungicides are used in the storage of grain, all of the naturally occurring microorganisms are left intact resulting in a full and deep fermentation.

4Copas Organic Tequila is made from 100% organic blue agave at La Quemada 'Green' Distillery. Made in four styles (blanco, reposado, anejo and extra-anejo), this line of carefully crafted, certified-organic tequilas is bottled in hand-blown glass from local Jalisco artisans. In addition to making the first certified organic tequila, they also created a special edition tequila bottle to support the works of seaturtles.org.
For those with a sweet-tooth, they also make an agave nectar, which can be used as a low-glycemic substitute sweetener in place of honey or sugar.
Papaguyo Organic Rum is made from organically farmed sugarcane grown and harvested by fairly paid workers in Paraguay. Produced by over 800 of these family farmers of the underdeveloped region of Arroyos y Esteros, organic farming practices are helping to preserve and enrich the land for years to come. Certified organic by CCOF and the Soil Association, you can be sure there is no pesticide aftertaste.
Another interesting tidbit is the link between organic spirits and a decreased hangover symptoms. This probably has more to do with the higher quality ingredients of most organic liquors than anything else since methanol (a natural product of the distillation process) is more common in poorly refined distilled spirits and darker, sweeter liquors such as brandies and whiskies. However, the best way to avoid this is to avoid over-indulging in your favorite alcoholic beverage. If beer is your thing, check out green beer, a look at a great sustainable brewery.