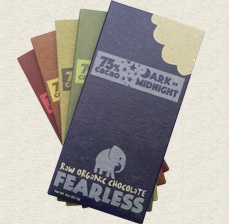 The folks over at Fearless Chocolate sent us over a friendly care package filled with delicious chocolate treats from their latest batch. Fearless organic raw chocolate is just that, unroasted and minimally processed at temperatures below 118 degrees to preserve the antioxidants, minerals and nutrients naturally found in cacao.
It is also better than fair-trade, it's direct trade. Collaborating directly with family farms in Bahia, Brazil to ensure complete 'bean-to-bar' manufacturing straight from the Mata-Atlantic rainforest. Rounding out the green package, it is organic, minimally processed, vegan, gluten-free with no refined sugars, and if that wasn't enough, they are also Kosher.
Flavors include super-foods and exotic spices such as chia, matcha green tea, ginger and hibiscus. Donating 1% of profits to change-making organizations of your choosing (you can enter your choice on their website, but you do need a batch number from a purchased chocolate bar), they are helping to give back as well.

[ad name="JPrectangleSTD"]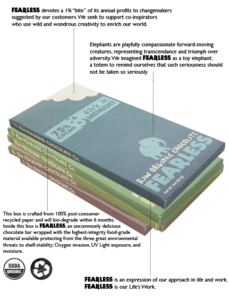 I was delighted with the 4 different flavors which accompanied the 75% cacao dark chocolate bar, but be aware if you want flavored chocolate, you won't find it here. These chocolate bars are for chocolate lovers. The added nuts, seeds and spices don't overwhelm the chocolate flavor, which is the real star here. The ginger and hibiscus, matcha and peppermint, chia super seeds, and coconut are subtle enhancements, so you still know you are eating good, quality chocolate. Delicious.