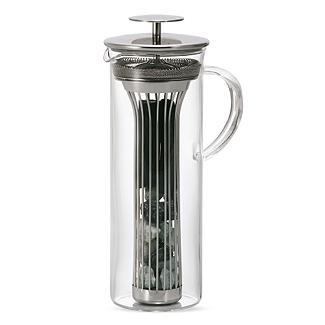 I do despise bottled water, but that doesn't mean I don't want to drink artesian spring water. Lucky I came across this beautiful and elegant water pitcher by Design Within Reach (DWR). I do own a Pur water filter pitcher, but I have never liked all that plastic (and large disposable plastic water filters). DWR fills this need beautifully with a water pitcher that is fit for your table (even with the filter elements in it).
Water is filtered through Iouseki stones and Binchotan charcoal, creating fresh, mineral-rich water. While not necessarily the greenest, the stones come from the mountains in Kanazawa, the capital city of Ishikawa Prefecture, on the Sea of Japan coast. The charcoal filtration elements are specially prepared for potable water use, and also works as a deodorizer to create odor-free water.
Lasting up to 6 months, additional sets can be purchased without all that packaging, and when you are ready to dispose of the old 'sticks and stones', you can just put them in your back yard. I wish the charcoal could be purchased separately (if you know of any sources, please post them in the comments section below), as I see no need in replacing the Japanese stones, but I'm sure its no worse than the plastic filters. Given the pitcher and filtration structure are all composed of glass and steel, it could last well into the future, well beyond my yellowing leeching plastic pitcher.
At $85 and with refills going for $25, its only marginally more expensive to what you may find in the plastic world, but with much better materials and design.
[via
stuffthatilike
]